The Need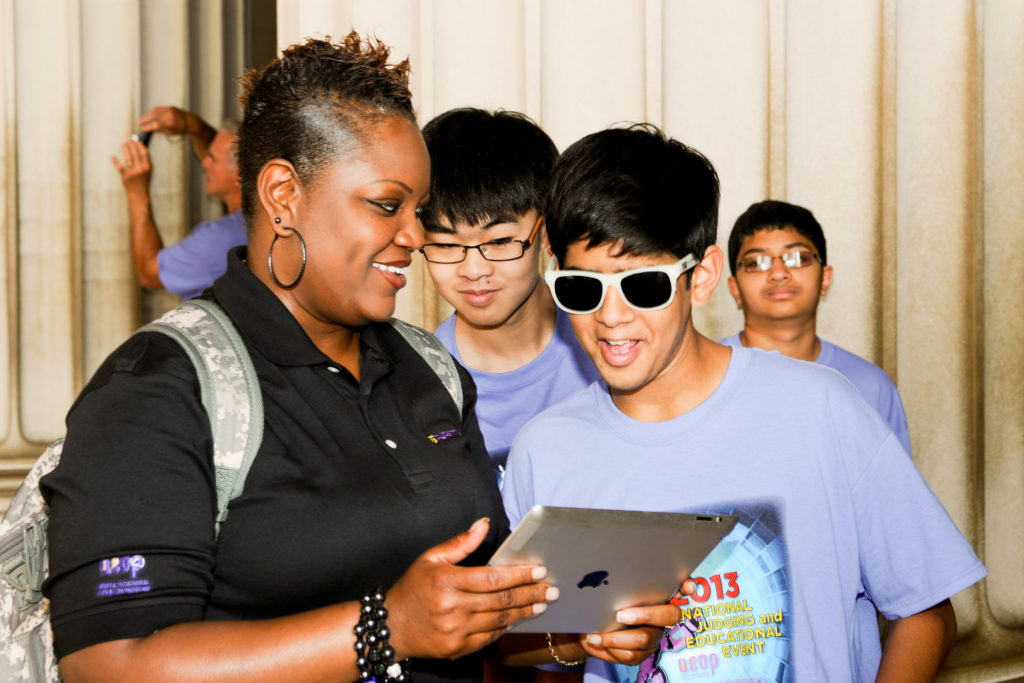 The need for STEM literacy – the ability to understand and apply concepts from science, technology, engineering and mathematics in order to solve our nation's most complex problems – is growing exponentially. STEM literacy goes beyond the traditional occupations of scientist, engineer and mathematician. Ultimately, the continuous development of innovative solutions help our country stay competitive in the global economy and with a growing demand for STEM skills, developing the next generation of STEM talent is an urgent issue facing the U.S.
We need your help. Find out how you can get involved in the U.S. Army Educational Outreach Program (AEOP).
How to Get Involved
There are a variety of opportunities to get involved with AEOP for educators, mentors, STEM professionals and even interested parents. Explore
Research Experiences for STEM Educators and Teachers (RESET): Reinforce your content knowledge through research experience and interactions with U.S. Army and DoD scientists and engineers. RESET provides an opportunity to get summer research experience at participating U.S. Army Laboratories. Teachers translate this knowledge and experience into enhanced STEM research curricula and enriched learning for their students. Learn more here.
GEMS Resource Teacher: Lead middle and high school students in a week of summer STEM exploration with GEMS. GEMS relies on local teachers to work alongside U.S. Army research scientists to provide inquiry-based, hands-on lab experiments and activities. Near-Peer Mentor opportunities are available for high school and undergraduate students. Learn more and explore locations here.
eCYBERMISSION Team Advisor: The Team Advisor supports eCM students and teams during registration, Mission Folder research and development, and during Mission Folder submission. To learn more about the role of a TA, watch this TA Orientation Video. TAs can be teachers, coaches, counselors, leaders in a youth organization, or parents who are at least 21 years of age and has access to the Internet, as well as an active email address, in order to communicate with eCYBERMISSION Mission Control. Learn more and register here.
AEOP Apprenticeship and Fellowship Mentor: Researchers in university, U.S. Army and DoD labs mentor apprentices (high school and undergraduate students) and fellows (masters and postdoc students) as they dive deeper into their STEM interests. Mentors provide career guidance, professional development and networking. Learn more about hosting AEOP Apprentices and Fellows here.
Volunteer with eCYBERMISSION
Ambassador: Advocates of STEM Education. Volunteers are engaged in their communities and eager to support STEM Education through outreach and networking. Ambassadors are teachers, college professors, STEM professionals, involved in military service, community members, or parents of past eCYBERMISSION students. Register here.
CyberGuide: Resource guides for Students and Team Advisors. They are STEM professionals, college/university/vocational/technical school students, military personnel or individuals with a background in STEM who are interested in supporting students during the eCYBERMISSION competition. Register here.
Virtual Judge: Volunteers are STEM enthusiasts, students, or professionals who often have a background or interest in STEM or Education, are serving in the military or attending school, and are people who value making an impact on the lives of students and need a flexible and compact window of time to volunteer. Anyone, 18 and over who is out of high school, with a passion for STEM is a great volunteer for this position. Register here.
Find a Opportunity Near You
AEOP covers a wide range of ages, STEM activities and locations. Use our Program Finder to find a program that interests you, then get in touch to get involved!