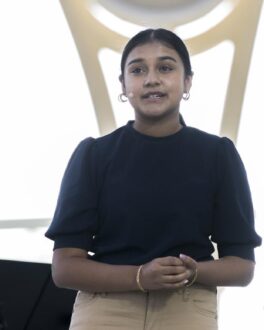 In 2020, we shared the exciting news that Gitanjali Rao, an eCYBERMISSION alum, was named TIME Kid of the Year. Now, Gitanjali is taking her STEM work global! She was recently named as one of UNICEF's Youth Advocates– see her feature below.
Activist, author and STEM promoter
Gitanjali Rao is a student-innovator who believes in using empathy to advocate for a people-centered approach to invention and problem-solving.
Gitanjali was named America's Top Young Scientist of 2017 by the Discovery Education 3M Young Scientist Challenge, for a patent-pending device to detect lead in water faster than any other current techniques. In 2019, she was recognized as a Forbes 30 under 30 for science, is a TED speaker and in 2020 was named TIME Magazine's first-ever Kid of the Year. She has been working with UNICEF on an anti-cyberbullying service based on artificial intelligence called Kindly.
Some of Gitanjali's hobbies include playing the piano, Indian classical dancing and singing, swimming, fencing and baking.
Gintanjali is taking Kindly, the app she and her eCYBERMISSION team developed in 2019, to a global scale! Just like AEOP alumni across the country, Gitanjali is using her STEM skills to make the world a better place.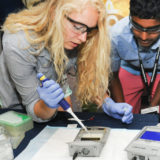 eCYBERMISSION
eCYBERMISSION is a virtual STEM competition for students in grades 6 to 9 that offers students the opportunity to explore STEM in a real-world setting.
More About eCYBERMISSION
Find a Volunteering Opportunity
Visit our Program Volunteers page for a tool to find the best opportunity for you.
eCYBERMISSION Grants
The eCYBERMISSION Mini-Grant is intended to support teachers/program leaders as they implement eCYBERMISSION with their teams. Educators (formal and informal) of students in grades 6-9 are encouraged to apply. Special consideration is given to Title 1 schools and to those with underserved/ under-represented populations.