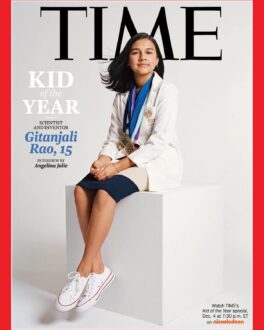 Congratulations to Gitanjali Rao, 15 from Lone Tree, Colorado on being named the first-ever "Kid of the Year" by Time magazine. Gitanjali is a sophomore at STEM School Highlands Ranch, outside of Denver, and was selected from more than 5,000 nominees in a very competitive process that sought to find the most influential young people who have made a positive impact on the world and are prepared to become the next generation of leaders for the future. Time said Rao stood out for creating a global community of young innovators and inspiring them to pursue their goals. 
Gitanjali, along with her classmates, was a member of TEAM VISION which won a 2019 AEOP STEM-In-Action Grant as part of eCYBERMISSION. The team won for their project called, "Kindly," an anti-cyberbullying service that uses artificial intelligence (AI) and natural language processing to minimize the impact of cyberbullying. Kindly identifies potential harmful messages before it is sent and urges users to rethink their choice of hurtful words.
Gitanjali has received national acclaim for her ability to apply scientific ideas to real-world problems — and her desire to motivate other kids to apply STEM in their own pursuit of social change. Inspired by the water crisis in Flint, Michigan, she invented a portable device designed to detect lead levels in drinking water in a faster and less expensive manner with the aid of a mobile app. She named her invention Tethys, after the Greek Titan goddess of clean water. She was selected to the 2019 Forbes 30 Under 30 list for her achievements and won the 2017 National Young Scientist Challenge for her invention.
An interview with CBS News acknowledged that her youth is not the only thing that sets her apart from other innovators. "I am a female of color, and that's not necessarily what you see in every scientist out there," she said. It was not always easy for the teen to find her confidence — she described "facing backlash" from herself, even asking "can girls of color be scientists?"
Gitanjali hopes that her win as Time Kid of the Year will help define representation of women of color in STEM. "There shouldn't be one of me. There shouldn't be one Gitanjali," she said. "There should be other students just like me who are looking to innovate and create change — and they just don't know where to start. It's not easy when you don't see anyone else like you. I really want to put out that message: If I can do it, you can do it, and anyone can do it."
Everyone at AEOP is so very proud of Gitanjali and of all young people who are working and growing in STEM to address the complex challenges of today and create a better world for the future.
Find a Volunteering Opportunity
Visit our Program Volunteers page for a tool to find the best opportunity for you.
eCYBERMISSION Grants
The eCYBERMISSION Mini-Grant is intended to support teachers/program leaders as they implement eCYBERMISSION with their teams. Educators (formal and informal) of students in grades 6-9 are encouraged to apply. Special consideration is given to Title 1 schools and to those with underserved/ under-represented populations.