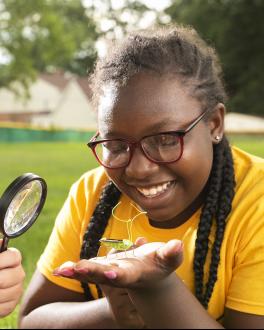 Innovation and creativity abounded last spring and summer as educators and youth workers moved mountains to offer safe ways to reduce disruptions caused by the pandemic and keep kids engaged. Camp Connect was born out of necessity and made the summer of 2020 as best as could be for nearly 13,000 students across the country by moving camp online and into their hearts during an otherwise incredibly difficult time.
Now, nearly a year since our worlds changed forever, our brilliant partners at the National Inventors Hall of Fame® (NIHF) have been hard at work planning to make summer 2021 the best yet.
Since 2011, AEOP and NIHF have partnered to bring NIHF's flagship summer STEM program, Camp Invention®, to underserved children across the country. Each year, Camp Invention provides an all-new curriculum specifically designed to engage children's imaginations as they invent, create and collaborate with friends to bring their biggest ideas to life. This summer will be no different!
With a focus on STEM skill building, campers engage in social-emotional learning (SEL), a key element of the program, trying, adapting, and working through challenges from actual NIHF Inductees! Students in Camp Invention even receive advice from these Hall of Famers and have the chance to see themselves in these amazing and diverse role models.
K-6 students in Alabama, Arizona, California, Florida, Illinois, Maryland, Massachusetts, Mississippi, New Mexico, and Texas can register for online, in person and blended summer camps through May.
Learn more about Camp Invention opportunities near you at invent.org or contact Wendy Merkert for more information.
Find a Volunteering Opportunity
Visit our Program Volunteers page for a tool to find the best opportunity for you.
eCYBERMISSION Grants
The eCYBERMISSION Mini-Grant is intended to support teachers/program leaders as they implement eCYBERMISSION with their teams. Educators (formal and informal) of students in grades 6-9 are encouraged to apply. Special consideration is given to Title 1 schools and to those with underserved/ under-represented populations.