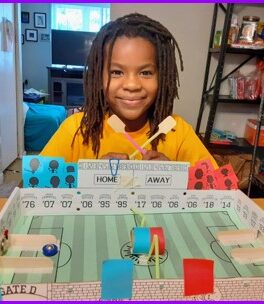 Since 2011, the U.S. Army Educational Outreach Program (AEOP) has partnered with the National Inventors Hall of Fame® (NIHF) to bring NIHF's flagship summer STEM program, Camp Invention®, to nearly 13,000 underserved children across the country.
While Camp Invention is traditionally an in-person program, this summer, in response to the need to socially distance and help prevent the spread of COVID-19, AEOP and NIHF created an at-home experience for innovative, hands-on STEM (science, technology, engineering and mathematics) exploration: Camp Invention Connect™.
Creating Camp Invention Connect
Thanks to valuable insights from both educators and parents about how to best meet their needs during these unexpected times, NIHF's education team and AEOP leadership began developing a customized solution. To adapt their curriculum for at-home fun and learning, the team developed hands-on activity kits to deliver creative materials and step-by-step instructions directly to children's homes. In addition, Camp Invention Connect offered opportunities to enhance the program experience through virtual collaboration with peers and real-time guidance from certified educators.
With this new option, AEOP was able to transition all 26 sponsored traditional camp programs to the Camp Invention Connect experience. This summer, 2,771 underserved children in 10 states — Alabama, Arizona, California, Florida, Illinois, Massachusetts, Maryland, Mississippi, New Mexico and Texas — were able to:
Take apart and customize their very own high-tech flight simulation robot and explore principles of flight such as lift and thrust.
Build and design their own sports complex and collect Inventor Trading Cards to discover inspiring stories of inventors who have shaped the world of sports.
Become confident, creative entrepreneurs by sketching ideas, building prototypes, designing logos and developing pitches to promote their inventions.
Develop solutions to real-world problems and support a healthy environment by investigating energy conservation and protecting wildlife.
By adapting to the challenging new reality caused by COVID-19, AEOP and NIHF provided engaging STEM programs to students in need while mitigating learning losses during this disruptive pandemic.
To learn more about Camp Invention, we invite you to visit its website or contact Wendy Merkert for more information.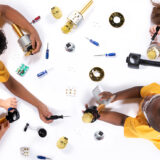 Camp Invention
Camp Invention® is a weeklong summer adventure with activities that help you explore the connections between science, technology, engineering and innovation.
More About Camp Invention
Find a Volunteering Opportunity
Visit our Program Volunteers page for a tool to find the best opportunity for you.
eCYBERMISSION Grants
The eCYBERMISSION Mini-Grant is intended to support teachers/program leaders as they implement eCYBERMISSION with their teams. Educators (formal and informal) of students in grades 6-9 are encouraged to apply. Special consideration is given to Title 1 schools and to those with underserved/ under-represented populations.