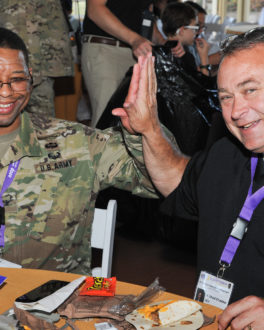 Are you looking for an amazing volunteer opportunity? Do you want to take part in stoking a passion for STEM in today's youth? Do you want to use skills you have developed throughout your career to give back to your community? If you answered yes to any of these questions, eCYBERMISSION is the volunteer opportunity for you!
Volunteering with eCYBERMISSION is a unique, accessible opportunity unlike any volunteer activity you've seen before. With volunteering on the rise across the country, we're so excited to be able to offer an opportunity to our nation's young people to spend their time volunteering in an organization where they can get their hands dirty and spend time working with student eCYBERMISSION teams to develop research projects, troubleshoot issues and provide assistance and feedback when needed. This is not your normal, one-day volunteer opportunity. As an eCYBERMISSION volunteer, you'll spend multiple days a month introducing STEM-passionate students to all that science, technology, engineering and math has to offer!
eCYBERMISSION is a web-based STEM competition for 6th through 9th graders sponsored by the U.S. Army Educational Outreach Program (AEOP). Students from across the country work in teams to improve their local community and compete for state, regional and national prizes. As a volunteer, you have the opportunity to join the mission from anywhere in the country and encourage students to explore the real-world applications of STEM. Whether you want to join as a Virtual Judge, Ambassador or CyberGuide, our eCYBERMISSION volunteers are dedicated and passionate about promoting STEM education for America's youth.
If you are an educator, school official or STEM professional interested in STEM and passionate about promoting STEM careers and education, eCYBERMISSION is the perfect volunteer opportunity for you. Register by February 27 to join #ecyber19.
Any questions? Call Mission Control at 1-866-GO-CYBER (462-9237) or message us at  volunteerprogram@ecybermission.com.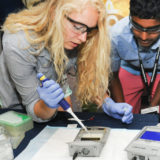 eCYBERMISSION
eCYBERMISSION is a virtual STEM competition for students in grades 6 to 9 that offers students the opportunity to explore STEM in a real-world setting.
More About eCYBERMISSION
Find a Volunteering Opportunity
Visit our Program Volunteers page for a tool to find the best opportunity for you.
eCYBERMISSION Grants
The eCYBERMISSION Mini-Grant is intended to support teachers/program leaders as they implement eCYBERMISSION with their teams. Educators (formal and informal) of students in grades 6-9 are encouraged to apply. Special consideration is given to Title 1 schools and to those with underserved/ under-represented populations.