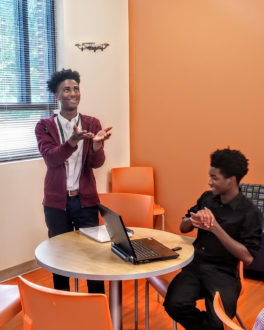 Reston, VA— Summer 2019 saw approximately 400 high school students participate in Unite – an immersive STEM education and career program – at 19 university campuses across the United States and in Puerto Rico. During the program, which targets high schoolers traditionally underserved in STEM, participants have the opportunity to explore a plethora of potential STEM pathways all aimed at helping them make better, smarter decisions about their fields of study and future career paths.
Texas Southern University (TSU) spiced things up this year by "add[ing] an air of mystery to [its] programming," revealed Marcia Robin-Stoute, an engineering instructor at TSU. In addition to more standard industry workshops and hands-on projects, students also visited a forensic lab for one of their field trips. At the lab, students got an up-close look at the role forensic scientists and engineers play in law enforcement.
The media also caught onto the Unite buzz this summer at Montana Tech, where the Unite program received some local television coverage. As Amy Verlanic, executive director of the university's Institute for Educational Opportunities, explained, Unite is "…about having [students] forecast their future and cement their dreams for a college education." Students were involved in hands-on experiences in engineering and other STEM fields via research in a college environment, which helped them discover the many diverse STEM opportunities available to practicing engineers and scientists.
By partnering with higher education institutions, Unite connects participants with near peer role models via college students, as well as faculty and STEM professionals. These interactions allow students to ask questions and see first-hand what a future in STEM might look like. In addition, projects and field trips give students a chance to apply STEM to the real word and gain confidence in their own knowledge and abilities.
Summer 2019 Unite sites included: Alabama State University (Montgomery, AL); Fayetteville State University (Fayetteville, NC); Florida State University (Tallahassee, FL); Harris-Stowe State University (St. Louis, MO); Jackson State University (Jackson, MS); Marshall University (Huntington, WV); Michigan Technological University (Houghton, MI); Montana Tech (Butte, MT); Morgan State University (Baltimore, MD); New Jersey Institute of Technology (Newark, NJ); Savannah State University (Savannah, GA); Texas Southern University (Houston, TX); University of Colorado, Colorado Springs (Colorado Springs, CO); University of Iowa (Iowa City, IA); University of Nevada, Las Vegas (Las Vegas, NV); University of New Mexico (Albuquerque, NM); University of Pennsylvania (Philadelphia, PA); University of Puerto Rico, Rio Piedras (San Juan, PR); Virginia Tech (Blacksburg, VA)
Interested students may apply for the summer 2020 Unite program beginning in February 2020. Learn more here or contact Hillary Lee, Unite Program Administrator for AEOP, at hlee@tsaweb.org.
Find a Volunteering Opportunity
Visit our Program Volunteers page for a tool to find the best opportunity for you.
eCYBERMISSION Grants
The eCYBERMISSION Mini-Grant is intended to support teachers/program leaders as they implement eCYBERMISSION with their teams. Educators (formal and informal) of students in grades 6-9 are encouraged to apply. Special consideration is given to Title 1 schools and to those with underserved/ under-represented populations.