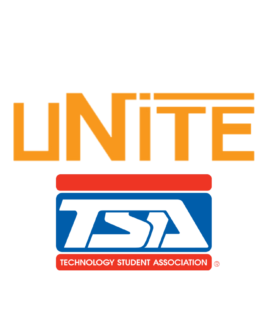 The Technology Student Association (TSA) administers the Unite program on behalf of the U.S. Army Educational Outreach Program (AEOP). For the last seven years, TSA has overseen this four-to-six-week summer program for talented high school students from groups historically underserved and underrepresented in STEM. Through academics, field trips, hands-on projects, and discussions with college students, professors, and professionals, participants have the opportunity to explore different higher education and career paths in STEM. Learn more about Unite here.
A Unite Request for Proposal (RFP) is currently available for the next funding cycle (2020-2021) of sites. Institutions interested in hosting a Unite program and submitting a proposal should contact Hillary Lee (hlee@tsaweb.org), Unite Program Administrator for AEOP, with any questions. The Unite RFP is available here.
TSA is a national non-profit organization of middle and high school students engaged in STEM. TSA was chartered in 1978, and since then over 4,000,000 students have participated in its activities. Members apply and integrate STEM concepts through competitive events, leadership endeavors, co-curricular activities, and related programs. Learn more about TSA here.
Find a Volunteering Opportunity
Visit our Program Volunteers page for a tool to find the best opportunity for you.
eCYBERMISSION Grants
The eCYBERMISSION Mini-Grant is intended to support teachers/program leaders as they implement eCYBERMISSION with their teams. Educators (formal and informal) of students in grades 6-9 are encouraged to apply. Special consideration is given to Title 1 schools and to those with underserved/ under-represented populations.