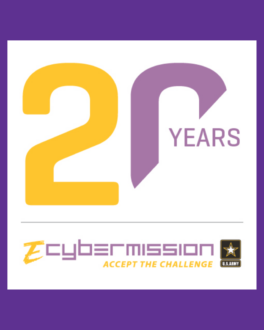 Twenty years ago, the U.S. Army answered the President's call to action to prepare and inspire students to explore the world of STEM.  In response, eCYBERMISSION was born. The eCYBERMISSION competition engages a broad spectrum of America's sixth to ninth graders offering them the opportunity to explore STEM concepts, investigate problems in their communities, and inspire future STEM careers.
Each year, thousands of students across the country form teams of two to four and choose a problem in their community to explore with science or solve with engineering.  They experience STEM firsthand and learn how they can use it to change the world.  Throughout the competition, students work on team building and interact with STEM professionals while competing for state, regional, and national awards that can be used for future education. Students are supported every step of the way by eCYBERMISSION'S dedicated team of volunteers.  Our volunteers impact students' futures and directly influence their lives by engaging and inspiring them to challenge themselves and explore STEM.
Over the last twenty years, eCYBERMISSION students and team advisors have studied countless community problems.  The ingenuity, intellect, and ambition of our students' has driven them to develop innovative projects on important issues including: cyberbullying, clean water, food waste and insecurity, traumatic brain injury, climate change, car seat safety and wild fire recognition.
Many students have continued their STEM journeys after eCYBERMISSION with other AEOP competitions, apprenticeships, fellowships, ultimately leading to a STEM career.  eCYBERMISSION students have applied for and received patents, expanded their projects into businesses, and achieved further national recognition, including the first ever TIME's "Kid of the Year".  The fact is, eCYBERMISSION is the first step on the path toward a career and future in STEM.
With the opening of registration in August, eCYBERMISSION is proud to continue its mission of serving America's youth and increasing STEM literacy.  Throughout this competition year, as eCYBERMISSION celebrates its twentieth year, we look forward to sharing our story, looking back at past projects, and recognizing the students, team advisors, and volunteers that make our competition exceptional. We invite you to celebrate our twentieth year with us by accepting the challenge and joining the mission by registering as a student, team advisor, or volunteer.
This blog is reposted from the eCYBERMISSION blog.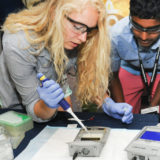 eCYBERMISSION
eCYBERMISSION is a virtual STEM competition for students in grades 6 to 9 that offers students the opportunity to explore STEM in a real-world setting.
More About eCYBERMISSION
Find a Volunteering Opportunity
Visit our Program Volunteers page for a tool to find the best opportunity for you.
eCYBERMISSION Grants
The eCYBERMISSION Mini-Grant is intended to support teachers/program leaders as they implement eCYBERMISSION with their teams. Educators (formal and informal) of students in grades 6-9 are encouraged to apply. Special consideration is given to Title 1 schools and to those with underserved/ under-represented populations.