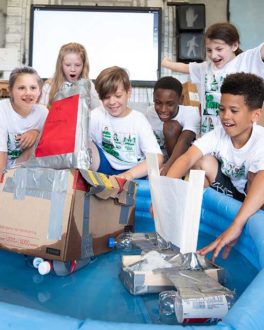 Camp Invention is a weeklong summer camp that introduces AEOP's youngest learners to the world of STEM. Here's a note from the folks at Camp Invention about why this program is great for your young learners.
Thanks to partners like the U.S. Army Educational Outreach Program (AEOP), the National Inventors Hall of Fame® (NIHF) continues its work toward measuring the effectiveness of invention education. For 30 years, NIHF has provided STEM (science, technology, engineering and mathematics) enrichment opportunities for students across the country. These educational experiences offer valuable insights from world-changing inventors and help children develop a passion for innovation.
Each year, NIHF's flagship summer program, Camp Invention®, provides an all-new curriculum specifically designed to keep children engaged. Because campers explore STEM concepts through hands-on activities, often they have so much fun that they don't realize they're learning.
Studies have shown that children not only enjoy this active approach to learning, but that it is more effective than traditional passive learning styles. To develop the crucial 21st-century skills campers will need to thrive in the future, they must learn by doing. NIHF's education team understands this, and spends 20 months developing the Camp Invention curriculum.
Making a proven impact
A recent study conducted by Dr. John Falk, founding director of the Center for Research on Lifelong STEM Learning at Oregon State University, found that attending just one week of Camp Invention "resulted in statistically significant improvements in creativity, STEM interest and the ability to use and apply problem-solving techniques." Additionally, Dr. Falk found that students who attended Camp Invention multiple times over four years showed even greater levels of STEM interest, creativity and problem-solving aptitude when compared to students with limited or no previous Camp Invention experience.
Dr. Falk's research shows that the positive effects of Camp Invention endure long after the program is over, and that repeat attendance can produce even greater increases in creativity and problem-solving skills. By using free-choice learning techniques, which give children the freedom to learn about topics in which they're naturally interested, NIHF believes Camp Invention has the power to give children a newfound enthusiasm for STEM learning.
Identifying innovative role models
Another key benefit of attending Camp Invention is that it connects children with inspirational inventors — NIHF Inductees. This exposure to innovation has been shown by Opportunity Insights to greatly increase the likelihood that children will become innovators when they grow up. This finding is incredibly important, as it represents an effective way parents and educators alike can begin addressing the troubling lack of diversity found in many STEM fields. If children can identify with STEM role models from an early age, they can see what they too are able to achieve.
With supportive partners like AEOP, Camp Invention's high-quality STEM program has reached underserved and underrepresented children in Alabama, Arizona, California, Florida, Illinois, Maryland, Massachusetts, Mississippi, New Mexico and Texas. Together, we can prepare the STEM-ready innovators of tomorrow.
Discover more about Camp Invention opportunities at invent.org or contact Wendy Merkert for more information.
Find a Volunteering Opportunity
Visit our Program Volunteers page for a tool to find the best opportunity for you.
eCYBERMISSION Grants
The eCYBERMISSION Mini-Grant is intended to support teachers/program leaders as they implement eCYBERMISSION with their teams. Educators (formal and informal) of students in grades 6-9 are encouraged to apply. Special consideration is given to Title 1 schools and to those with underserved/ under-represented populations.