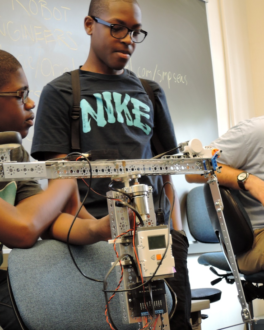 By Daniel Miller-Uueda, UNITE Site Director, GRASP Laboratory, University of Pennsylvania
In 2014, the University of Pennsylvania accepted its first class of Philadelphia public school students into the UNITE Summer Mentorship Program (SMP) in Robotics Leadership.  As we enter our fourth summer of UNITE programming, we want to pause and honor those students from our inaugural class who will be entering their first year of college this fall. They will be attending such institutions as Drexel University, Georgia Tech, Penn State, University of Pittsburgh, Howard University and Temple University, to name a few.
UNITE is a four-to six-week summer experience for talented high school students historically underrepresented and underserved in science, technology, engineering and mathematics (STEM). UNITE encourages students to pursue college majors and careers in STEM-related fields through hands-on academics, enrichment and career exploration, while studying at some of the nation's top colleges and universities.
One of those students, Anthony, will be staying on at the University of Pennsylvania (UPenn), joining the prestigious engineering program as a freshman in September. Entering an Ivy League engineering program was not a forgone conclusion for Anthony. When he started with UNITE, he was a quiet, rather shy, young man attending Carver High School in north Philadelphia who had dreams of becoming a software engineer. With little exposure to the field and a limited number of STEM courses offered at his school, he wasn't sure whether he would be able to make his dreams become a reality. Thanks to his school guidance counselor, Anthony connected with the UNITE-SMP robotics program.
Through the UNITE-SMP robotics program, Anthony spent two summers building and programming robots that could complete autonomous tasks. He visited research facilities at Boeing and Lockheed Martin and received career advice from U.S. Army, Navy and industry engineers. Anthony successfully designed and developed a robot that could detect color-coded crates of waste and push them into disposal zones. The project was inspired by search and rescue applications that are common in robotics research.
UPenn's UNITE-SMP robotics program is jointly funded by AEOP and UPenn's Summer Mentorship Program. Each summer, 18 ninth and tenth grade students from Philadelphia's public schools engage in a four-week deep dive into the world of robotics. Students learn about circuits, programming, CAD, engineering design, sensors and control systems. The program operates out of UPenn's GRASP Laboratory, a premier academics and research center in robotics designed for student groups historically underrepresented in STEM fields.
The UNITE-SMP program embodies the same philosophy that makes many higher education laboratories such a unique and powerful place for innovation and groundbreaking research. Through UNITE, students like Anthony are given open-ended, inquiry-based, rigorous problems that require computational thinking to solve. Undergraduate and graduate mentors assist the students as they work through these problems and learn how to troubleshoot, analyze data, develop creative solutions and present conclusions to an audience of their peers.
For his final UNITE assignment, Anthony was asked to identify the one person he wanted to meet and list the questions he would ask him or her. For Anthony, that person was SpaceX founder and Tesla CEO Elon Musk. His question: "Once you make the decision to become self-employed, at what point do you change your focus from changing your own life to improving the lives of others?"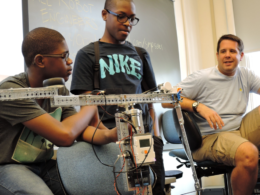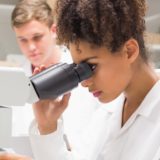 Unite
Unite is a nationwide summer program for talented high school students from groups historically underrepresented in STEM.
More About Unite
Find a Volunteering Opportunity
Visit our Program Volunteers page for a tool to find the best opportunity for you.
eCYBERMISSION Grants
The eCYBERMISSION Mini-Grant is intended to support teachers/program leaders as they implement eCYBERMISSION with their teams. Educators (formal and informal) of students in grades 6-9 are encouraged to apply. Special consideration is given to Title 1 schools and to those with underserved/ under-represented populations.