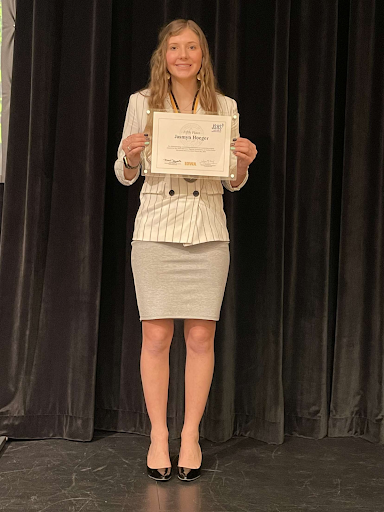 Meet Jasmyn Hoeger, a sophomore undergraduate student at the University of Iowa, pursuing a pre-PhD track in Biology with a focus on genetics research. We were lucky enough to sit down with her to chat about her journey from participating in the Junior Science and Humanities Symposium (JSHS) to being awarded the AEOP Travel Award. Read on to learn how these experiences shaped Jasmyn's academic and professional path.
JSHS: A High School Turning Point
As a high school sophomore, I first got involved in AEOP by participating in JSHS. It was embedded into my school's culture; teachers ran a program for 50-70 students out of 350, where we applied to JSHS each year. What set JSHS apart for me was the opportunity to give 15-minute talks about my research, rather than just presenting posters like at typical science fairs. The two-day experience in Iowa city, lab tours and the chance to connect with like-minded peers made it an unforgettable experience. The sense of community I found in JSHS, returning year after year to reconnect with fellow participants, was truly special.
AEOP Symposium Travel Award: A Game-Changer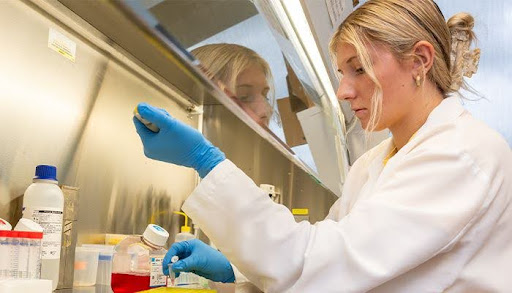 My journey continued when I participated in the international science and engineering fair during my junior year of high school. This achievement led to an invitation to present at an academic conference in San Diego. While this was a significant opportunity, it also posed financial challenges. That's when earning the AEOP Symposium Travel Award my senior year came to my rescue. This award made attending the conference possible and allowed me to learn from and connect with graduate students and even postdocs as they presented their academic research.
Favorite JSHS Memory
One of my fondest memories from my time participating in JSHS was attending nationals during my senior year of high school. I was part of a group of about 5 students from my region, and we quickly formed lasting friendships. And of course, the experience of networking and learning from experts in various fields was invaluable.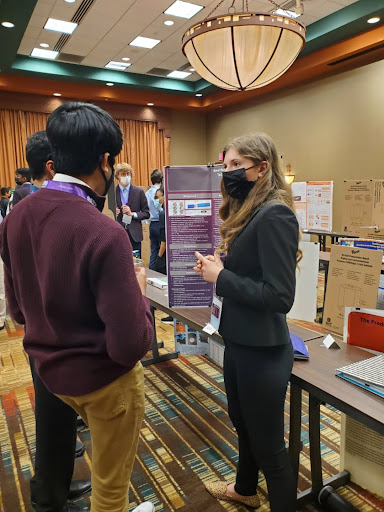 Professional and Personal Growth
My participation in JSHS provided me with essential skills for professional presentations and research communication. I learned how to construct engaging presentations and convey complex scientific concepts to non-STEM audiences. This experience has helped me excel in undergraduate poster presentations, where I quickly and concisely explain my hours of lab work, experimentation and research. Because of this experience, I was able to start working in a research lab my freshman year of college, looking into cardiovascular diseases, neurological disorders, transcriptional mutations and much more. We found new proteins that no one knew existed in the heart and brain – they greatly impact cardiovascular diseases as well as neuro and cardiac genetic disorders. I got to characterize the proteins and figure out what happens when we mutate it. The next step here is gene therapy!
A Memorable Takeaway
A standout moment for me was during a JSHS poster presentation when a judge questioned me for a substantial 20 minutes. This experience was remarkable, and I really appreciated the judge's genuine interest in my research and his valuable feedback. He gave me pointers on how to improve in the future and how to be involved in undergraduate research while also being a student. Personally, coming from a small area and being a first generation student, I didn't have that kind of guidance. No one in my community had gone into research, and so to have someone who didn't know me well take the time to give me advice meant a lot.
Facing and Overcoming Challenges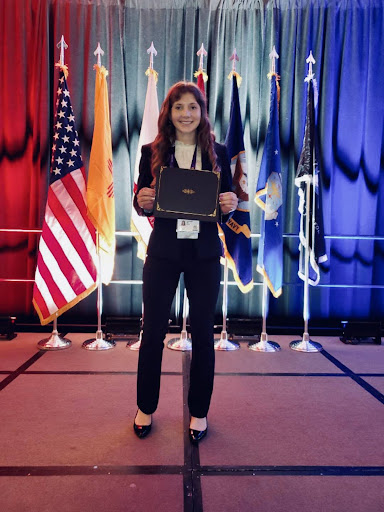 I want to share a piece of advice for anyone interested in applying to JSHS or any STEM program: Don't let your failures define you. Embrace them as opportunities for growth. My journey was filled with challenges and rejections, but each setback served as a stepping stone to greater success. I didn't get into JSHS the first time I tried. And now, AEOP has given me opportunities that have led to immense success, because I kept working through the challenges. Enjoy the process, and remember that science fairs are just a small part of your journey. Falling in love with research will make your achievements even more fulfilling.
Connection from JSHS to now
Through my AEOP experiences, I have made valuable connections with professionals who have significantly influenced both my research and professional development. I even became a student representative on a board with PhDs, where I help plan student activities and contribute to networking opportunities. I'm still on the board right now, and I'm actually the youngest ever appointed to it! It's inspiring to work with graduate and postdoc students, because I'm building connections and learning about different sides of research and academia.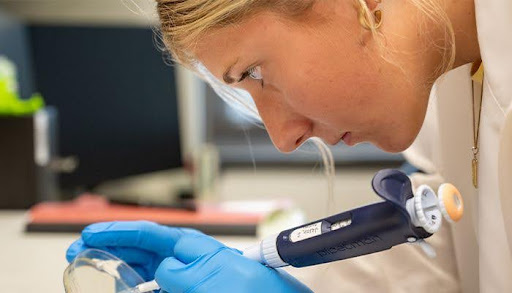 My JSHS research focused on cattle and naturally pain free dehorning, as well as research on ringworm. Now, I'm interested in researching new treatments, be it for cows or humans. And even though my main focus is spending time in the research lab, my Principal Investigator – or the person who runs the lab – asked me to present at Pharmacological and Pharmaceutical Science Research Retreat. I also present my research annually at the Society for In Vitro Biology Meeting. 
Future Goals and AEOP's Impact
Looking ahead, my professional and academic goals include delving deeper into genetics research. I'm interested in animal genetics, such as culture farming, issues that farmers are facing, especially diseases that impact their farming; I'm also interested in pediatric genetics, or more specifically cancer and gene defects that impact the effectiveness of various treatments. AEOP offerings, especially the AEOP Symposium Travel Award, have been instrumental in helping me get closer to these goals. They have allowed me to build connections, expand my research experiences and gain a broader understanding of the STEM field.
To learn more about JSHS, click here. To apply for the AEOP Symposium Travel Award, click here.
Find a Volunteering Opportunity
Visit our Program Volunteers page for a tool to find the best opportunity for you.
eCYBERMISSION Grants
The eCYBERMISSION Mini-Grant is intended to support teachers/program leaders as they implement eCYBERMISSION with their teams. Educators (formal and informal) of students in grades 6-9 are encouraged to apply. Special consideration is given to Title 1 schools and to those with underserved/ under-represented populations.