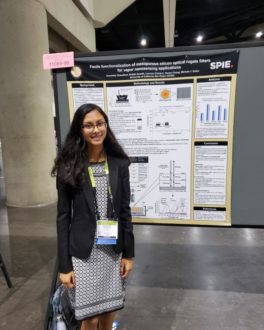 The Importance of Sharing Research at Professional STEM Conferences
By: Anushree Chaudhuri
For the last three years, I have been a researcher with the Sailor Group at the University of California San Diego (USCD). I've focused on creating a color-changing chemical sensor using porous silicon, which is just pure silicon with tiny nanoscale holes etched into it. A portable and inexpensive chemical sensor system, like the porous silicon one I've studied, could save lives by quickly detecting small amounts of toxic vapors. And that potential to save life is one of the most exciting parts of this project. But research can't reach its full potential unless it is shared with the broader scientific community. Thanks to AEOP, I had two amazing opportunities to do just that.
This August, I attended the SPIE Optics + Photonics conference in San Diego, California. As the youngest student author there, I was eager to make the most of this exciting experience. By presenting my research paper, I developed relationships with STEM professionals and fellow researchers to grow my network. I also participated in skill-building breakout sessions and presentations, like Grant Writing and Resume Building. Even though SPIE Optics + Photonics is a huge event, the special sessions allowed me to make personal connections with other students and professors, giving me a true sense of belonging in the scientific community. I thoroughly enjoyed my time at the SPIE event, and I look forward to presenting my work at future conferences.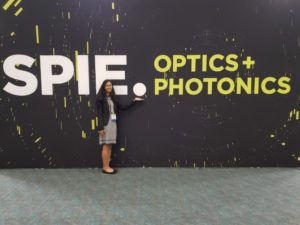 Earlier this year, I also participated in the Junior Science and Humanities Symposium (JSHS) program and presented my work at the national competition in Albuquerque, New Mexico. JSHS provided me with the chance to network with peers and professors from across the country. Though I think the most valuable takeaways from JSHS were in the friendships I formed and the inspirational professionals I met, I was honored to receive second place in the Chemistry and Materials Science category for my poster presentation.
In the coming years, I plan to pursue chemistry, chemical engineering or materials science in college, with the aim of continuing to graduate school and eventually becoming a professor myself. While STEM is a major passion for me, I also love literature, history, and creative writing. I hope to incorporate the humanities into my undergraduate degree, as it plays an important role in translating scientific discoveries to real-world impacts on policies and people.
Reflecting on my time at SPIE Optics + Photonics, JSHS, and my participation in the High School Apprenticeship Program (HSAP) this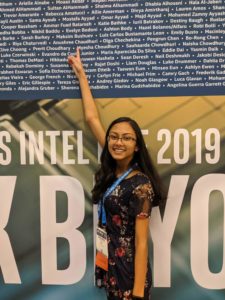 summer, I know that AEOP programs have been some of the most rewarding experiences in my high school STEM journey. I encourage all students, regardless of their background, to explore these opportunities—I'm confident that you won't regret it!
Anushree's travel to conferences was made possible in part by the AEOP Travel Award. This award helps AEOP participants and alumni cover the costs of attending scientific meetings and technical symposia, so to present research to the scientific community. Here at AEOP we love seeing our students take full advantage of the wide array of programming that we offer. Learn more about the Travel Award.
Find a Volunteering Opportunity
Visit our Program Volunteers page for a tool to find the best opportunity for you.
eCYBERMISSION Grants
The eCYBERMISSION Mini-Grant is intended to support teachers/program leaders as they implement eCYBERMISSION with their teams. Educators (formal and informal) of students in grades 6-9 are encouraged to apply. Special consideration is given to Title 1 schools and to those with underserved/ under-represented populations.