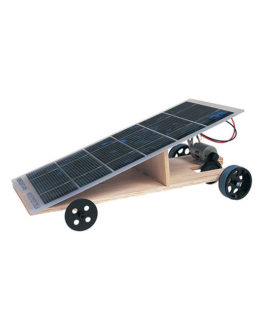 Each year, the Florida Governor's Council on Indian Affairs (FGCIA) hosts a summer camp for Native youth hailing from across the state. The Florida Indian Youth Program is designed to expose youth to subjects they might not otherwise have the chance to experience. Students spend two weeks taking classes at Tallahassee Community College, Florida Agricultural and Mechanical University and Florida State University. Classes cover traditional Native artistry, such as basket weaving, as well as the latest in science, technology, engineering and math (STEM).
This past summer, the Governor's Council added a bit of competition to the camp experience. Junior Solar Sprint (JSS), sponsored by the U.S. Army Educational Outreach Program and the Technology Student Association, is a solar car competition for fifth- through eighth-grade students. Students design, build and race solar powered cars using hands-on engineering skills and principles of science and math. They develop teamwork and problem-solving abilities and investigate important environmental issues.
FGCIA invited local business owner and advocate Shawna Newman to lead the instruction. Newman, a Chickasaw native, was excited about running the program. Through her business, The NDN Companies, she had been working with FGCIA to bring more opportunities to Native youth throughout Florida.
Newman and her students took a unique approach to JSS; to further customize their cars from the standard kit pieces they received; she took her students dumpster diving at a local teacher supply recycle center. Students used what they found to decorate, personalize and test their cars. Just as important, students were able to use their unique strengths to contribute to each part of the process, from finding materials to building and racing. They even strengthened conflict resolution skills as they worked in small teams to test their vehicles. Though some students were initially apprehensive, JSS ended up being a favorite activity for many students in the camp.
In honor of Native American Heritage Month, we celebrate—this month and year-round—programs that support Native youth. The Florida Indian Youth Program works with 40 to 50 students each year. FGCIA, The NDN Companies, and other organizations have been working to get Florida youth, especially Native Florida youth, more involved in STEM. They have partnered with Girls Inc., the Society of American Military Engineers (SAME) Panama City Post and schools located in rural areas to expand their reach.
For more information on JSS, visit the "Programs" page on our website.
Find a Volunteering Opportunity
Visit our Program Volunteers page for a tool to find the best opportunity for you.
eCYBERMISSION Grants
The eCYBERMISSION Mini-Grant is intended to support teachers/program leaders as they implement eCYBERMISSION with their teams. Educators (formal and informal) of students in grades 6-9 are encouraged to apply. Special consideration is given to Title 1 schools and to those with underserved/ under-represented populations.