Program Overview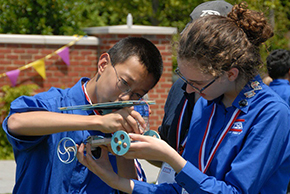 Junior Solar Sprint (JSS) is an educational program for 5th through 8th grade students with the goal of creating the fastest, most interesting, and best crafted solar-vehicle possible.  Students have the opportunity to participate in JSS through TSA chapters, Army hosted locations and middle schools across the country or through their middle school!
During JSS students will:
design, build and race solar powered cars using hands-on engineering skills and principles of science and math,
develop teamwork and problem solving abilities,
investigate environmental issues,
and gain hands-on science, technology, engineering and mathematics (STEM) skills
JSS is designed to support the instruction of STEM exploring topics such as alternative fuels, engineering design, and aerodynamics.
Whether you are a parent, teacher (advisor), volunteer or a student the first step is to register free here. Once registered, access will be provided to the online resources. There is no fee to register.
NATIONAL JSS COMPETITION
The 2018 national JSS competition will be held in conjunction with the national TSA conference, June 22 – June 26, 2018 at the World Congress Center in Atlanta, Georgia. More information on the national JSS competition will be available in spring 2018.
PROGRAM MILESTONES
| | |
| --- | --- |
| Sept-Feb: | Registration |
| Apr-Jun: | Participate in local and regional JSS races |
| Aug-Jun: | Online resources available |
| Nov-May: | Webinars and local training for students and teachers/coaches |
|  Jan-Mar: | Complete JSS lesson plans |
| | Create design sketches and team journal |
| | Obtain solar panels/car kits |
| Feb-May: | Participate in local and regional competitions |
| Jun: | National JSS Competition |
CONTACT
Ms. Sue King
1914 Association Drive
Reston, Virginia 20191
703.860.9000
888.860.9010
For more information regarding TSA membership, please contact Suzy Orr at sorr@tsaweb.org.

HISTORY OF THE JSS PROGRAM
Originally created by the National Renewable Energy Laboratory in the 1980's, Junior Solar Sprint has been supported with funding from the US Army Educational Outreach Program since 2001. The Technology Student Association (TSA) has administered the JSS program since 2011. In 2014, JSS became an official TSA middle school competition and the first national JSS competition was held at the national TSA conference in Washington, DC.