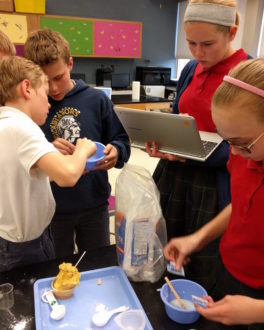 By Erin Lester, eCYBERMISSION Project Manager
Kathy Biernat is in her twelfth year of teaching Science for fifth through eighth grade at St. Mary's Visitation School in Elm Grove, Wisconsin. After a dozen years in curriculum design at the Medical College of Wisconsin, she went back to school for a teaching license adding to a bachelor's from Marquette University and a master's from the University of North Texas.
Challenges aren't new to Biernat who regularly participates in professional development workshops in areas outside of her comfort zone. She has been to Houston to experience zero gravity, southern California to learn about radio telescopes and aerospace research, to Connecticut for training in robotics, Lake Superior for a week on an EPA research boat, northern Wisconsin for No Teacher Left Inside, and New Orleans to experience science from the World War II perspective. She serves on the NOVA Education Advisory Board and the NSTA Aerospace Programs Advisory Board. These experiences energize her and inject new enthusiasm and relevance into her teaching.
Over the years, she has had 100 teams in the competition and loves the challenge it provides her students. Biernat says that eCYBERMISSION pushes students past the "potato clock" science fair into solving real problems in their communities and making a difference. Students feel like they are actually scientists and engineers, which can make all the difference when capturing the interest of middle school students.
It wasn't always easy for Biernat; her first year guiding the student teams in competition was a challenge. She was brand new to teaching and had no colleagues. She didn't have anyone to turn to, until she found the Live Team Chats. These chats allowed her to learn the process and gain insight on completing the Mission Folder, which she recommends other teachers take advantage of. As a result, Biernat also serves as a mentor to new teachers in eCYBERMISSION to help them through the process, and says, "eCybermission is perfect for any classroom – for the new teacher, the rubrics, timelines, worksheets and mentoring opportunities are invaluable – they help a new teacher to structure a meaningful science and engineering project with students.
"For the mid-career teacher, using eCybermission is a way to liven up your curriculum and bring some new excitement to a traditional Science Fair experience. For the experienced teacher, eCybermission is a way to help teachers connect their teaching to the Next Generation Science Standards (NGSS), which may be new to some," Biernat added. "eCybermission promotes authentic experiences in science and engineering, allowing students to learn how to work together to solve a problem in their community and gives teachers the tools to help them achieve that."
Biernat is also a participant in eCYBERMISSION's pilot program: Next Generation STEM Teacher Program (NGSTP) which she knows will give her the opportunity to gain more knowledge about NGSS. Biernat will be able to incorporate more STEM standards into her curriculum and be provided a framework that will continue to aid in advancing her students. She will also have the opportunity to work with U.S. Army science and engineer experts, which will enhance the lessons she develops by making it relevant and reflective of current research.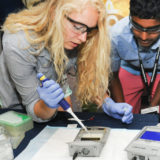 eCYBERMISSION
eCYBERMISSION is an online STEM competition for students in grades 6 to 9 that offers students the opportunity to explore STEM in a real-world setting.
More About eCYBERMISSION
Find a Volunteering Opportunity
Visit our Program Volunteers page for a tool to find the best opportunity for you.
eCYBERMISSION Grants
The eCYBERMISSION Mini-Grant is intended to support teachers/program leaders as they implement eCYBERMISSION with their teams. Educators (formal and informal) of students in grades 6-9 are encouraged to apply. Special consideration is given to Title 1 schools and to those with underserved/ under-represented populations.