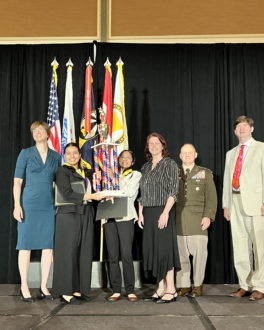 Congratulations to this year's winners of AEOP's eCYBERMISSION! Over 20 teams from across the country gathered in Washington D.C. for the 20th annual eCYBERMISSION National Judging & Educational Event (NJ&EE) for the first time in-person in two years. During this week-long event, students showcased their STEM projects, shared their plans for the future, and connected face-to-face with their peers while developing long-lasting friendships.
After hosting eCYBERMISSION remotely for two years, students, mentors, military personnel, parents, and staff were excited to finally welcome back everyone in person and witness our students' ingenuity firsthand. Through innovative and research-based solutions, participants seek to address many of the challenges our communities and the world face today to create a better future for all.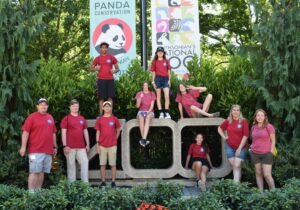 The event started with several days of fun-filled STEM activities where participants had the opportunity to attend workshops about different career paths in STEM, go on puzzle hunts, and play games that required the application of STEM principles to win. Participants also had the chance to explore Washington D.C.'s iconic monuments and visit the National Zoo! 
At the end of the week, our finalists were ready to present their projects to a panel of senior scientist and engineer judges from the U.S. Army. After judging, participants also had the chance to impress their peers and audience during the National Showcase, which was live-streamed for viewers across the country, for the chance to win the People's Choice Award. 
NJ&EE concluded with the Awards Ceremony, where the winning teams were announced and celebrated. Each member of a winning team received a $10,000 U.S. EE Savings Bond prize and national recognition. 
The 20th Annual eCYBERMISSION  winners are: 
Sixth grade – Oh, Deer! created a device, the Steer Deer Clear, to prevent deer-vehicle accidents by producing variable light and sound signals that deter deer from approaching the road. Team members are Benjamin Manhein, Neel Boteler, Maley Thornhill, and Lily Frances Garner.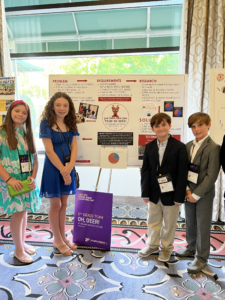 Seventh grade – Plastic Patrol studied the use of marine and freshwater algae as bio accumulators of microplastics and discovered four species that were successful in doing so. Team members are Jett Hurst and Annerson Dooley. 
Eighth grade – OMg studied the impact of different soil additives on increasing the magnesium content in food crops and determined a cost-effective and eco-friendly solution. Team members are Nidhi Sagaram, Samil Sharma, and Viraj Vyas. 
Ninth grade – Busy Bee Tech studied and determined the necessary components of a smart beehive system to optimize colony health. The team is composed of students Ambika Rao and Romayssae Saidi. 
Army Values Award – Team Vision for best embodying the U.S. Army values throughout the National Judging & Educational Event. 
People's Choice Award – Team River Revivers won the popular vote of at-home viewers during the National Showcase. 
Congratulations to all of our national finalists and the 2022 winners. See you in 2023! 
Find the press release here. 
About eCYBERMISSION
eCYBERMISSION is an online science, technology, engineering, and mathematics (STEM) competition for students in grades six through nine that promotes teamwork, self-discovery, and the real-life applications of STEM. Students work in teams, with the help of a Team Advisor, to choose a problem in their community to explore with science or solve with engineering. Students experience STEM firsthand and learn how they can use it to change the world while interacting with STEM professionals and competing for state, regional, and national awards. eCYBERMISSION students have applied for and received patents, expanded their projects into businesses, and achieved further national recognition, including the first-ever TIME's "Kid of the Year." eCYBERMISSION is part of the Army Educational Outreach Program (AEOP) and is administered by the National Science Teaching Association (NSTA).
To learn more about eCYBERMISSION or to register for the 2022-2023 eCYBERMISSION competition, visit ecybermission.com.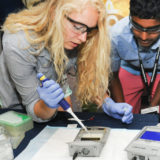 eCYBERMISSION
eCYBERMISSION is a virtual STEM competition for students in grades 6 to 9 that offers students the opportunity to explore STEM in a real-world setting.
More About eCYBERMISSION
Find a Volunteering Opportunity
Visit our Program Volunteers page for a tool to find the best opportunity for you.
eCYBERMISSION Grants
The eCYBERMISSION Mini-Grant is intended to support teachers/program leaders as they implement eCYBERMISSION with their teams. Educators (formal and informal) of students in grades 6-9 are encouraged to apply. Special consideration is given to Title 1 schools and to those with underserved/ under-represented populations.