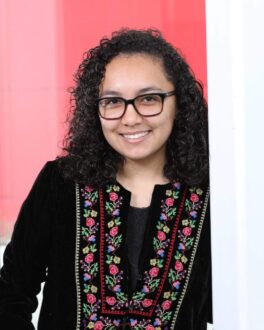 Katie Barajas was not born knowing she wanted to be an engineer. Now, twenty-two years later, she finds herself a senior at Cornell University and helping lead a summer course for high school students interested in research. So how did she get here? 
Katie grew up in the Los Angeles area and is the daughter of immigrant parents, one from Mexico and one from Nicaragua. Growing up, Katie didn't know much about getting involved in the world of science, technology, engineering and math (STEM) research. One summer, that all changed. Following her junior year of high school, Katie participated in an engineering research program at the University of California, Los Angeles (UCLA). During this program, Katie's eyes opened to the possibilities of STEM, not only in higher education but in future careers. Her STEM spark was ignited.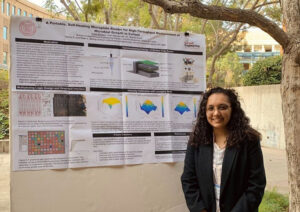 From there, Katie applied and was accepted to Cornell's College of Engineering, where she is currently pursuing a Bachelor's degree in Engineering Physics. It was during one of her summers at home that she discovered AEOP. In 2019, Katie participated in AEOP's Undergraduate Apprenticeship program at the University of Southern California (USC). Katie was attracted to the program because she was able to conduct real research in a lab while also being paid for her work. She loved how AEOP gave students from low-income and underrepresented backgrounds the opportunity to explore STEM. During her apprenticeship, Katie worked under Dr. Andrea Armani, a Professor of Chemical Engineering and Materials Science, and Biomedical Engineering, Electrical Engineering, and Chemistry at USC. This experience helped solidify Katie's interest in research and deepened her passion for ensuring STEM learning opportunities are accessible to all students, regardless of where they live. 
Witnessing the impact that programs like AEOP had on her own life, Katie was inspired to pay it forward and help reach as many students as possible. Katie's mentor, Dr. Armani, connected her with the AEOP Apprenticeships & Fellowships leadership team, and during the summer of 2020, Katie served as a near-peer mentor for the virtual AEOP research course for high school students. As a near-peer mentor, Katie was able to directly connect with her cohort of students, helping them troubleshoot any issues they came across during the course. The experience was just as valuable for her. 
"I learned so much from my students. They brought such different perspectives to the table. I tried to learn about each student to understand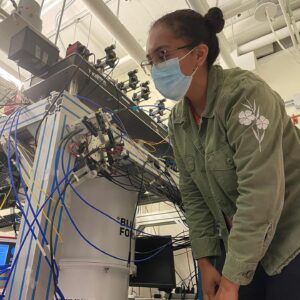 their background and how to best connect with them," Katie explained. Being close in age to her mentees was an advantage and Katie offered her students advice that would have helped her at their age. "As a first generation student, I remember being so lost and confused in the college process. Everyone is so focused on the number of AP courses and extracurriculars. No one is telling you to take the time to explore topics you are passionate about. I try to be that voice and remind my students that it's a marathon, not a sprint, and that they shouldn't be comparing themselves to their peers." 
Katie thrived during her summer as a near-peer mentor, so when Dr. Tori Matthews, Director of AEOP Apprenticeships and Career Development, approached her about leading the Research Foundations Course during the summer of 2021, she jumped at the opportunity. Katie worked with Dr. Matthews, 20 near-peer mentors, and EDforTech -a digital curriculum development team- to develop a curriculum that introduced 140 high school freshmen and sophomores to the principles of research. 
"Often when we think about STEM education, we picture opening a textbook, memorizing what's in it and regurgitating that back on a test. During this course I wanted students to question their perceptions and think more critically about science," Katie said. "Science is challenging, and it's easy to get discouraged. It was the goal of this course to give students the chance to explore STEM in a creative and engaging way."
And the best part? The students responded to this creativity. During the course, students were given robots with a series of steps and activities to follow. For most students, this was the first time they had interacted with this kind of technology before. However, as Katie quickly discovered, they took this opportunity and ran with it.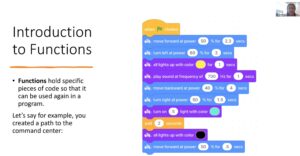 "I was amazed and impressed by the creativity and out of the box thinking that the students tapped into. The directions would say one step, and the students would come to class and say, 'I actually chose to do it this way instead and here's why.' That kind of thinking is what science is all about and to see the students grasp that was really inspiring."
Reflecting on the Research Foundations course, Katie has one last reminder for her students on their STEM journey ahead: "The word failure sounds like such a big scary thing, but, as someone who has failed countless times, don't let it deter you! If you can't solve a problem, reach out to get new perspectives, tap into others' ideas and collaborate to solve the problem as a team."
As Katie looks towards graduation and her future, she doesn't know exactly what's in store, but she feels passionately that she wants to use her STEM skills to make a positive impact. "There's still so much to learn out there. I want to stay curious and be a lifelong student, constantly asking questions and exploring new things. Even if you fail, it's better to have tried and expanded your horizons than to have never tried at all."
The Research Foundations course was offered during the summer of 2021 through the AEOP Apprenticeship & Fellowship program which is administered by the Rochester Institute of Technology. Learn more about the AEOP Apprenticeship & Fellowship opportunities here. 
Find a Volunteering Opportunity
Visit our Program Volunteers page for a tool to find the best opportunity for you.
eCYBERMISSION Grants
The eCYBERMISSION Mini-Grant is intended to support teachers/program leaders as they implement eCYBERMISSION with their teams. Educators (formal and informal) of students in grades 6-9 are encouraged to apply. Special consideration is given to Title 1 schools and to those with underserved/ under-represented populations.