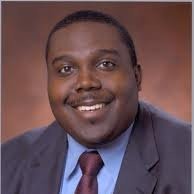 Join us in welcoming Dr. Tori Matthews to our AEOP community! Dr. Matthews is joining our partner, the Rochester Institute of Technology (RIT), as the Director of AEOP Apprenticeships and Career Development. We are excited to bring Dr. Matthews' STEM knowledge and expertise into our apprenticeship program. He joins the AEOP team after serving as an Assistant Professor of Biology at Monroe Community College in Rochester, New York.
Growing up in a military household, Dr. Matthews' parents were service members, he spent part of his childhood living overseas in Würzburg, Germany. During this time, he participated in a program called Talented and Gifted, where he solved various problems and conducted experiments, which ultimately sparked his interest in STEM. It was through this program that he had the opportunity to compete in Odyssey of the Mind, a global problem-solving competition, where his team ended up winning the entire European region. He was hooked by STEM. He began searching for additional programs and ways to advance his STEM knowledge in his field of interest, biology.
During an honors biology course his freshman year of college, Dr. Matthews connected with a neuroscience professor, Dr. Leslie Tolbert, who became his mentor for the next three years (Dr. Tolbert recently retired after serving as the Vice President of Research at the University of Arizona). It was Dr. Tolbert who taught him about doctorates in philosophy (Ph.Ds) and inspired him to pursue one. Dr. Matthews earned his Ph.D. in Cell Biology, with an emphasis in Neuropharmacology, from the University of Alabama at Birmingham. After serving as an assistant professor, Dr. Matthews joins the AEOP team with the mission to inspire the next generation of STEM leaders and make AEOP Apprenticeships and STEM learning opportunities and careers accessible to all students of all backgrounds.
This summer, Dr. Matthews is leading the launch of the AEOP High School Apprenticeships: Research Foundations Program, a four-week online initiative designed to help students develop the foundational skills they need for research opportunities, such as the AEOP High School Apprenticeships. This summer's virtual class, titled "Engineering the Future of America's Scientists," is open to rising 10th and 11th grade students. He will be assisted by former AEOP Apprentice Katie Barajas, a senior studying Applied Physics at Cornell University. As a firm believer in the value of hands-on learning, Dr. Matthews structured the course around project-based learning to encourage students' critical thinking, problem-solving, teamwork and self-management.
To support the career development of AEOP participants, Dr. Matthews will not only oversee the AEOP Fellowship program, which connects master's and postdoctoral students with meaningful research experiences, but he is also developing a series of trainings with his team which are targeted at undergraduate students. These trainings will help students gain insight into the types of careers available in their fields and the direction those career paths are going in the future, as well, as the available opportunities through the Department of Defense. STEM will continue to drive the innovation of the future, and to prepare for the careers of tomorrow, we will need a STEM-literate citizenry that is up for the challenge, according to Dr. Matthews.
To anyone considering a career in STEM, here's Dr. Matthews' advice: "Don't be afraid to run the experiment. You must take a chance. If you have an idea and you think it can work, then you go after it. It may not work the way you thought it would but, in the end, you're going to be better off for it. Because, you will learn something 100% of the time. It's when you don't try that you don't learn."
Welcome to the AEOP team, Dr. Matthews!
---
For more information on the High School Apprenticeship Research Foundations Program course and to apply, click here. Please note that spots are limited and only open to eligible students. Find the eligibility requirements here. Applications for this summer close on June 4, 2021.
The applications for AEOP Apprenticeships and Fellowships are currently closed. Visit the website or follow us on social media to stay up to date on all the latest program information (Twitter, Facebook, LinkedIn or Instagram).
Find a Volunteering Opportunity
Visit our Program Volunteers page for a tool to find the best opportunity for you.
eCYBERMISSION Grants
The eCYBERMISSION Mini-Grant is intended to support teachers/program leaders as they implement eCYBERMISSION with their teams. Educators (formal and informal) of students in grades 6-9 are encouraged to apply. Special consideration is given to Title 1 schools and to those with underserved/ under-represented populations.