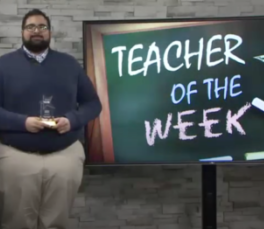 Logan Robles is not your average biology teacher. Lauded as a "champion" for his students, Robles was named Teacher of the Week in Craven County, North Carolina for his dedication to bringing STEM to life for his students. Through a collection of hands-on lessons — from shark dissections to dry ice experiments — Mr. Robles fosters real-world learning for his high schoolers at East College EAST High School in Havelock. He has inspired his students to think of STEM outside the classroom by organizing a group of budding learners for the North Carolina STEM Research Academy. Working with other teachers and students across the state, Mr. Robles and his team will participate in STEM design challenges that encourage research-based thinking and analysis of their experiments. The Academy will give students an opportunity to compete in eCYBERMISSION and attend the annual North Carolina Junior Science and Humanities Symposium (JSHS) competition.
Congratulations to Mr. Robles for his terrific work as a teacher, mentor and STEM advocate!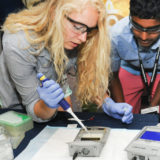 eCYBERMISSION
eCYBERMISSION is a virtual STEM competition for students in grades 6 to 9 that offers students the opportunity to explore STEM in a real-world setting.
More About eCYBERMISSION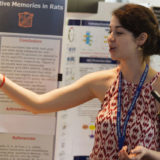 Junior Science and Humanities Symposium (JSHS)
At Junior Science and Humanities Symposium (JSHS), high school students compete for scholarships and recognition by present­ing results of their STEM projects to a panel of judges.
More About Junior Science and Humanities Symposium (JSHS)
Find a Volunteering Opportunity
Visit our Program Volunteers page for a tool to find the best opportunity for you.
eCYBERMISSION Grants
The eCYBERMISSION Mini-Grant is intended to support teachers/program leaders as they implement eCYBERMISSION with their teams. Educators (formal and informal) of students in grades 6-9 are encouraged to apply. Special consideration is given to Title 1 schools and to those with underserved/ under-represented populations.