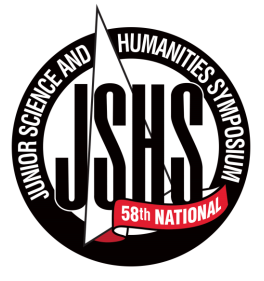 Last month, the National Junior Science and Humanities Symposium went virtual for the 58th annual national competition. While the format for this year's competition was different than usual, the student research was as impressive as always.
After presenting their original scientific findings at one of 47 regional competitions, the top five students from each region were invited to present at the national competition.Using online platforms, the selected students presented their research virtually to a panel of judges for a chance to earn scholarships and cash awards.
"We were honored to be able to create a virtual space this year to recognize the work that these young researchers have been working on all year long," said Alexis Mundis, JSHS Project Manager.
JSHS gives students an opportunity to research a STEM topic that they are interested in and present this research to their peers and the judges. Students can complete projects in one of eight categories: biomedical sciences; chemistry; engineering & technology; environmental science; life sciences; mathematics & computer science; medicine & health/behavioral sciences; and physical sciences.
For example, Reese Artero, from Guam, researched a topic that was personal – preventing typhoon damage to homes. In the Pacific, typhoons destroy homes, causing water shortages, power shortages and floods. In his JSHS project, Reese worked alongside his mentor to research which roof structure would protect and secure homes in his community. Ultimately, his research showed that a contoured dome model structure would be most effective.
Lea Wang, from Pennsylvania, researched antibiotic resistance as a result of contaminated drinking water. Many wastewater facilities, Lea found, lack the capacity to use expensive filtration technologies, leading to bacteria and fungi buildup. This buildup allows the bacteria and fungi to develop resistance, making it more difficult to treat these diseases with antibiotics. Her research found that repeated charcoal filtration was an inexpensive and simple way to mitigate this issue.
Thank you to all the STEM superstars who participated and shared their research with us. Read the JSHS Abstracts Catalog here. Find the list of 2020 winners, here.
AEOP's Junior Science and Humanities Symposium (JSHS) is a tri-service program founded by the U.S. Army, Navy and Air Force to encourage high school students to conduct original research in STEM fields. JSHS is administered by the National Science Teachers Association.
Find a Volunteering Opportunity
Visit our Program Volunteers page for a tool to find the best opportunity for you.
eCYBERMISSION Grants
The eCYBERMISSION Mini-Grant is intended to support teachers/program leaders as they implement eCYBERMISSION with their teams. Educators (formal and informal) of students in grades 6-9 are encouraged to apply. Special consideration is given to Title 1 schools and to those with underserved/ under-represented populations.