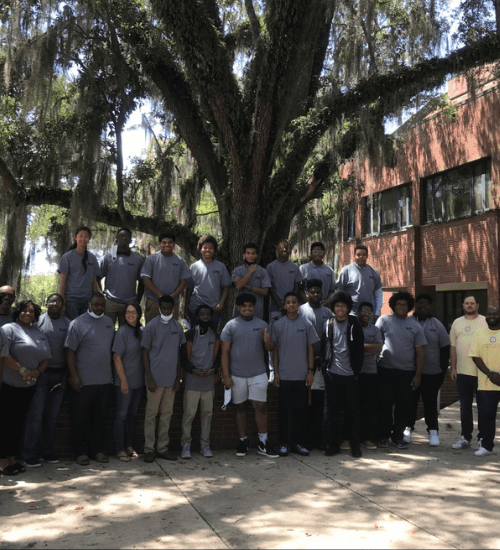 Florida State University hosts a Black Men in Tech (BMIT) program for high schoolers to be connected to the STEM field in unique ways, including through AEOP's Unite program, a nationwide summer program for talented high school students from groups historically underrepresented in STEM.
We sat down with the co-founders of the program, Dr. Faye Jones, Ebe Randeree, and Dr. Christy Chatmon, as well as Joanne Gambles, the parent of a 10th-grade student who has participated in BMIT, to learn more about how the program supports young men in STEM. 
What is the Black Men in Tech program?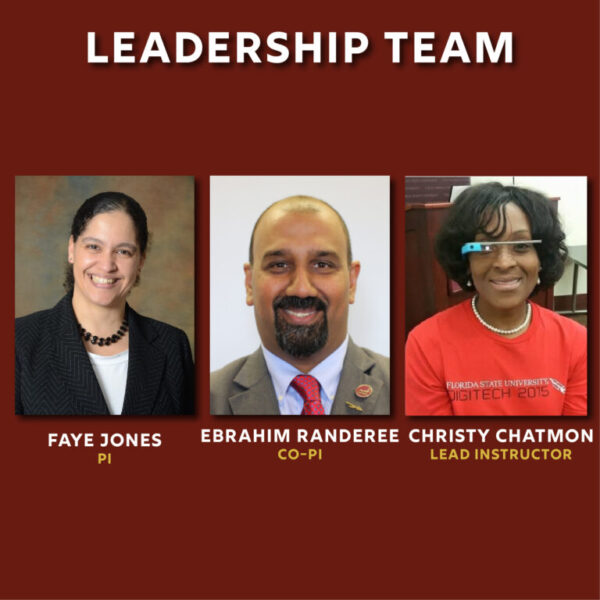 Dr. Faye Jones: Black Men in Tech was our vision for increasing the number of young Black men in the STEM pipeline. We introduced our students to different technologies available and taught them how to use them to promote themselves and further their educational and career pathways. Black Men in Tech made them culturally aware of how technology could improve their lives. 
We focused the program around three main themes: game design, web design and videography. Students at four schools in Leon County worked on each of their projects for three months and then came together to present at FSU each quarter.  We want to give a huge shoutout to the great teachers at these schools (Alex Rodriguez, FAMU DRS;  Michelle Hartsfield, FSUS; Wendy Chan and Drew Magee, Godby HS; and Dr. Cecile Washington, Rickards HS) who were there for these students each and every day and ensured students had projects they could be proud of.  We also want to thank the high school principals who were so supportive of this project (Micheal Johnson, FAMU DRS; Megan Brink, FSUS; Desmond Cole, Godby HS; and Douglas Cook, Rickards HS). 
Ebe Randeree: The Black Men in Tech initiative in high schools is an opportunity to build a pipeline that links our students to STEM early enough in their educational journey, so they can consider higher education or a potential career in STEM. It's about meeting students where they are. For example, a lot of the students we wanted to reach are very interested in sports, so we found ways to integrate sports into our lessons and taught them the STEM skills we want them to know. 
Dr. Christy Chatmon: There is also mentoring! One of the interesting things about the program is it connects students with professionals in IT – people who look like them, making it easy for the students to relate and see a potential career path. Our students enjoyed the opportunity to have a dialogue with individuals who are actually doing work in the field. In connecting tech to the activities that the students are interested in, like video games, we were able to show them that STEM is everywhere, and it's super important! 
Why is this program important to you?
Dr. Jones: I take this very personally. My children are Black, and my son is majoring in a STEM field, and I have seen first-hand the barriers and difficulties that so many students face. Additionally, the lack of representation of Black men in STEM is a national issue and the number of Black men completing STEM majors has been stagnant since 2000. We need more research that promotes evidence-based practices from K-20 that focuses on how to engage, retain, graduate, and employ more Black men in computing and technology fields.  
This program provides students with opportunities they might not have had otherwise, and I am overjoyed by the talent that exists in our local community and how this program has already made a difference in the lives of 24 young men.
Ebe Randeree: This is an important program for me because this is my city. When our students do well, our community does well. These students will succeed in STEM careers, and their success affects their siblings, their parents and our local community.  This is an investment.
Dr. Chatmon: We are planting a seed that will get students excited. And increasing diversity helps everyone – that's a passion of mine, figuring out how to increase representation. Programs like this are so important. We invest not just money, but our time and effort, because it pays off. We see our students make progress; we see them matriculate through the program, graduate, and then give back to their communities.
What are some unique benefits for students in the program?
Dr. Jones: The program is set up so there are hubs of students who work with their high school teachers and collaborate. Then the students come to visit FSU and are able to meet with mentors in the industry and connect with professors and students. FSU college students, who we call ambassadors, show our BMIT participants what projects they are working on and we immediately see the light bulbs go on.  What I like the best is that we are teaching college-level concepts to high school students, and they are thriving.
Ebe Randeree: A key part of the program is connecting students with mentors, specifically young Black IT professionals, so students can say, "This is where I could be. This could be me in a couple of years." This connection with a mentor helps them envision that pathway.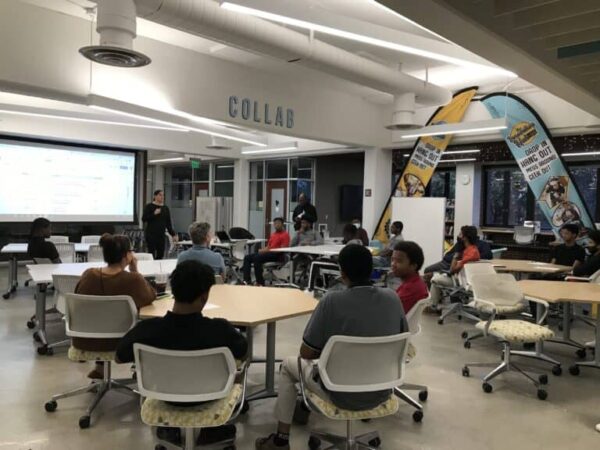 What do students think of the program? 
Dr. Jones: Some students are already really techy, and others don't yet have opportunities in their schools to engage in technology. A lot of students are looking for a place where they can learn about coding. We had a student come up to us and say, "I want to learn. Can you please teach me?" Students are excited to learn – and we want to teach them!
Joanne Gambles, parent: My son is in 10th grade and loves learning about technology and coding. He was always one of those kids who would take apart a toy and put it back together to see how it works. One of the things he's interested in doing one day is video game design. BMIT was really good for him – he's waiting for Unite this summer so he can get back into learning about the technical parts that he likes! He's also not around other Black men in tech, so to be able to connect and learn from other professionals in the field who look like him is good for his personal and professional growth. 
What is a success story about a student who has gone through the Black Men in Tech program?
Dr. Jones: The young men in our program come from all walks of life. With BMIT, we've created a space where our students can show up as they are and find folks who understand and connect with them. Our program has been that safe space for so many students. I can't tell you how many parents have told me that this program has benefited their students emotionally, socially and academically. 
After participating, students say with conviction, "I can be a technologist." I have students graduating this year who now want to work in IT. That, to me, is a success story. One student created his own promotional video for college football recruitment. It is extremely well-shot and edited, showing both his commitment to football and his technology skills. Now, he's going into college and he knows how to use technology to market himself. He received a full scholarship to play football, and is going to be a STEM major. That is success!
What does it mean to you to be a lifelong learner? How does Black Men in Tech embody this idea?
Ebe Randeree: When you're in technology, you are a lifelong learner. Whatever you know is old by the time you know it. The field changes so fast, so one of the things we instill in the students is that you must continue to seek out more information. We teach them how to learn in a way that prepares them for that changing future.
How did the AEOP grant make this program possible?
Dr. Jones: AEOP opened doors for BMIT at four different Title I schools for 24 young Black men to be able to work with teachers on topics that they care about and are important to them. AEOP paid for their trip to Florida State and allowed them to work with professors who are technology experts, and it provided them opportunities to work with mentors and successful industry leaders who look like them. We've also already doubled the number of students who want to participate in the AEOP Unite program this summer compared to last year!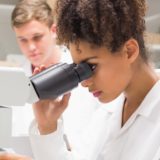 Unite
Unite is a nationwide summer program for talented high school students from groups historically underrepresented in STEM.
More About Unite
Find a Volunteering Opportunity
Visit our Program Volunteers page for a tool to find the best opportunity for you.
eCYBERMISSION Grants
The eCYBERMISSION Mini-Grant is intended to support teachers/program leaders as they implement eCYBERMISSION with their teams. Educators (formal and informal) of students in grades 6-9 are encouraged to apply. Special consideration is given to Title 1 schools and to those with underserved/ under-represented populations.