This year, eCYBERMISSION's National Judging and Educational Event (NJ&EE) looked a little different than previous years. Our 20 national finalists came together virtually to present their projects! Livestreamed across the country, the teams of 3-4 students across grades six to nine shared the creative solutions they developed to meet a real-world need in their communities with judges and their peers.
Each year, eCYBERMISSION participants team up and work together under the supervision of a mentor to use principles of science and engineering to investigate and solve an issue their community is facing. The projects are then compiled into a Mission Folder. Once the teams complete and submit their Mission Folders, they are reviewed by the volunteer Virtual Judges. From here, selected teams advance to regional judging, which was done by another round of Virtual Judges this year due to COVID-19. The state winners, regional and national finalists are then announced. These are the teams that ultimately participated in NJ&EE!
The projects that were chosen to participate highlighted the diversity of the U.S. from rural to urban, east coast to west coast, and illustrated the creative ways STEM can be used to meet needs faced by these diverse communities. For example, the winning sixth grade team, led by veteran team advisor Laura Wilbanks, researched the most effective methods for carbon sequestration, the process where CO2 is removed from the atmosphere and stored in soil as organic matter, to improve environmental outcomes by 2030. At the culmination of their research, they concluded which methods helped the soil retain the most CO2. It is research like this that helps our country devise the best policies and strategies to implement. Nice work Carbon Keepers!
eCYBERMISSION is a web-based science, technology, engineering and mathematics (STEM) competition for students in grades six through nine that promotes self-discovery and enables all students to recognize the real-life applications of STEM. Learn more or register for eCYBERMISSION here. Learn more about the eCYBERMISSION volunteer opportunities here. eCYBERMISSION is administered by the National Science Teaching Association.
Find the awards livestream here. Meet our winning #ecyber20 teams: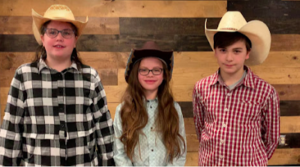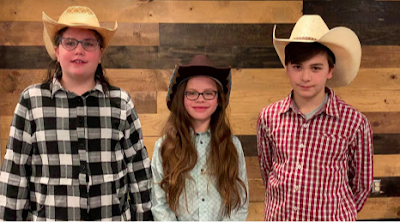 Sixth Grade:
Carbon Keepers
Team Members: Felipe de Farias, Briley Siemens and Eliza Cole-Smith
Team Advisor: Laura Wilbanks
The Carbon Keepers discovered a unique approach to combating climate change to prepare for a better world by 2030. During their research, they learned that soil carbon sequestration is a process in which CO2 is removed from the atmosphere and stored in soil as organic matter. Working with local and federal partners and university mentors, different soil treatments were measured for carbon sequestration in response to drought, salinity, acidity, wildfire and fertilizer. Further research led to the use of soil treatments such as manure, mycorrhizae fungi and compost to hold carbon. Grass was planted in soils from five regions, adding four concentrations of the treatments, for over 200 samples and five repetitions. After four weeks, the plants and roots were analyzed. Carbon organic matter in the soil greatly increased with the use of mycorrhizae as an additive.
Seventh Grade: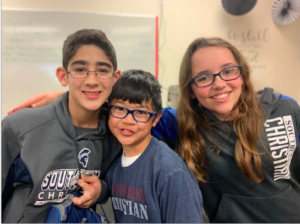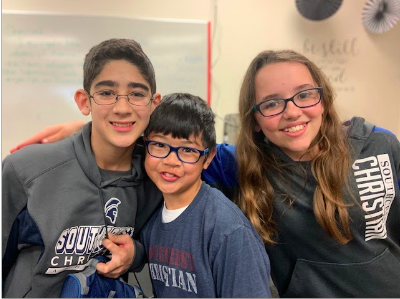 Code Red
Team Members: Alexa Tindall, Josiah Morales and Ethan Djajadi
Team Advisor: Milene de Farias
Code Red is determined to find ways to lower the chance of firefighters developing cancer as a result of their work. The team conducted several tests in order to find a proper solution. Results show that dangerous elements lurk in firefighters' gear, in water that is exposed to smoke and in rinse water collected between wash cycles of bunker gear. Gross decontamination on site with water-only was found to have some effect on reducing exposure, but washing gear multiple times instead of once greatly reduced the level of contaminants.
Eighth Grade:



Aquatech
Team Members: Saranya Gadwala, Remi Ladia, Anish Paspuleti, and Advaith Gajulapally
Team Advisor: Hima Lanka
Aquatech plans to reduce water usage by designing a device that alerts the user to leave the shower after a certain amount of water is used. They developed a device that was environmentally friendly, cost-effective, hydro-electricity powered with cutting edge IoT technology using Arduino IDE. The device measures the volume of water generated using magnets and sensors that calculate the volume of water used through formulas involving the number of rotations from a paddle wheel inside a shower head. Not only does this device allow users to set a recommended threshold to receive an alert from a buzzer, but it also stores and displays information in an accompanying application, where data is constantly updated.
Ninth Grade: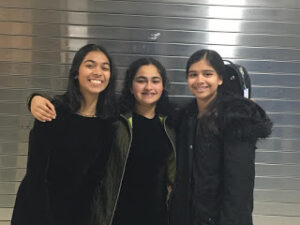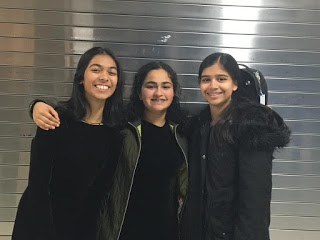 Psychologigals
Team Members: Sruthi Kotlo, Divya Lidder and Anjana Ramachandran
Team Advisor: Ramu Ramachandran
Psychologigals aimed to identify a solution to combat depression in our society by creating a cost-effective app. They explored the correlation between vocal acoustic features and depression and found that phonic patterns can be indicative of a disorder like depression. Their solution includes both a python-based machine learning program and a statistical model which analyzes extracted acoustic data from voice samples and attempts to classify each voice as depressed or non-depressed.
Find a Volunteering Opportunity
Visit our Program Volunteers page for a tool to find the best opportunity for you.
eCYBERMISSION Grants
The eCYBERMISSION Mini-Grant is intended to support teachers/program leaders as they implement eCYBERMISSION with their teams. Educators (formal and informal) of students in grades 6-9 are encouraged to apply. Special consideration is given to Title 1 schools and to those with underserved/ under-represented populations.