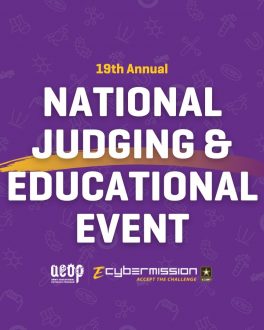 Join us in giving the 2020-2021 winners of AEOP's eCYBERMISSION a round of applause! The 19th annual National Judging & Educational Event (NJ&EE) brought together teams from around the country, virtually, to compete, network and share their projects.  As usual, the teams amazed the judges and attendees with their creative thinking and proposed solutions as they worked to solve problems facing their communities.
This year's national event started with several days of STEM fun and exploration and culminated in the award ceremony. Our finalists were invited to participate in a range of activities including preparing and eating an MRE meal, attending informational sessions on different STEM careers and applying engineering and physics principles to build a foil boat for marbles. 
During the jam-packed week of activities, the teams went into judging by grade level. The panel was made up of U.S. Army scientists and engineers. Following judging, each team had a chance to wow the audience during the National Showcase, which was live streamed for viewers across the country. The viewers could cast a vote for their favorite team for the People's Choice Award. NJ&EE concluded with the Awards Ceremony, which was also live streamed, where we gave out prizes and scholarships to the winning teams. 
The 2020-21 national winners are: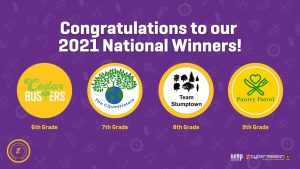 Sixth Grade — Cedar Busters

worked to eradicate salt cedars which are a damaging and invasive species that cause widespread adverse environmental damage.  The Cedar Busters team comprises Jett Hurst, Tori Hay, Justus Jacobus and Sawyer Means.

Seventh grade — The CQuestrators

worked to identify the problem of increases in carbon emissions in their community due to urbanization, burning of fossil fuels and cutting down trees. The CQuestrators team comprises Varsha Gunda and Veda Murthy as well as Team Advisor Sharmila Murthy. 

Eighth grade — Team Stumptown researched

how physical activity and physical therapy can reduce pain and improve physical function in adults and children suffering from arthritis and other types of rheumatic disease. Team Stumptown comprises Shreyas Ananth, Kapil Kakodkar, Rishab Madhusudhan, Tejaswani Datla and Team Advisor Ananth Sankaranarayanan.

Ninth grade — Pantry Patrol

presented a unique solution to combat the issues of food waste and food insecurity by creating an intuitive and easy-to-use application primarily focused on helping food pantries track, monitor and eliminate food waste. The Pantry Patrol team comprises Siddharth Maruvada, Abhinav Meduri, Arnav Meduri and Team Advisor Subbarao Meduri.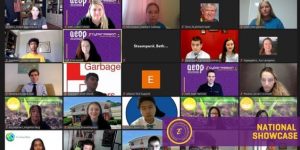 These creative and enthusiastic winning teams were chosen from 20 National Finalists which were selected from 1,295 teams that entered eCYBERMISSION. Each member of a winning team received a savings bond. 
Congratulations to all the impressive finalists and winning teams. Let the countdown to eCYBERMISSION 2022 begin!
---
eCYBERMISSION is a web-based science, technology, engineering and mathematics (STEM) program that is sponsored by the U.S. Army Educational Outreach Program (AEOP) in partnership with the National Science Teaching Association (NSTA). eCYBERMISSION promotes self-discovery and encourages students to grades six through nine to develop an interest in STEM and build real-world solutions to problems facing their local communities.
Find a Volunteering Opportunity
Visit our Program Volunteers page for a tool to find the best opportunity for you.
eCYBERMISSION Grants
The eCYBERMISSION Mini-Grant is intended to support teachers/program leaders as they implement eCYBERMISSION with their teams. Educators (formal and informal) of students in grades 6-9 are encouraged to apply. Special consideration is given to Title 1 schools and to those with underserved/ under-represented populations.