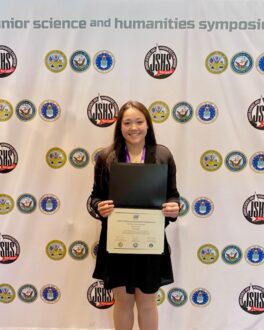 A year ago, Katie Culbert, an AEOP alum and sophomore from New Jersey, launched the Profiles in STEM series. As Katie began her STEM journey, she was interested in hearing about the pathways of various professionals in science, technology, engineering, and mathematics. How did these individuals get to where they are today? 
Learning from professionals and mentors has helped Katie shape her own STEM path. She began Profiles in STEM to share these meaningful conversations with her peers and anyone else who might be interested in learning more about the day-to-day life of a STEM professional! Over the last year, Katie has interviewed everyone from meteorologists to marine researchers to statisticians. Through her series, she hopes to open people's eyes to the diverse and exciting possibilities within the STEM field. 
According to Katie, an important thing she learned is, "There's a lot of different branches in STEM, so much more than just a handful of defined professions like I initially thought. With STEM, you can do so much more beyond what you might have imagined, which I think is really cool."
As Katie has grown and evolved, so has Profiles in STEM.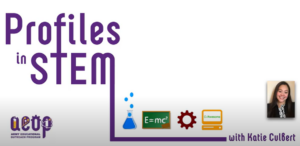 "The series has definitely grown a lot since the beginning, and so have I. In my first interview, I didn't really know what I was doing, but as it continued, I became more comfortable, and my questions and approach improved. Although it was nerve-wracking at first, it slowly got easier to talk with these researchers and scientists."
Katie is always looking for new interviewees for Profiles in STEM. When she attends National JSHS or other science competitions, she networks with speakers and judges to find future potential guests. These interviews, however, are not just a one-off for Katie. 
"I actually have stayed in touch with several of the experts I've interviewed. When I am working on my own research, I will reach out to them with questions directly or see if they know anyone that could help me," explains Katie.
Curious about the life of a STEM professional? Be sure to tune in to our Profiles in STEM episodes! You can watch past episodes here. You can also follow Katie's beekeeping journey on her YouTube channel, Katie's Adventures in Beekeeping, or on her Instagram @kt.bees.
Find a Volunteering Opportunity
Visit our Program Volunteers page for a tool to find the best opportunity for you.
eCYBERMISSION Grants
The eCYBERMISSION Mini-Grant is intended to support teachers/program leaders as they implement eCYBERMISSION with their teams. Educators (formal and informal) of students in grades 6-9 are encouraged to apply. Special consideration is given to Title 1 schools and to those with underserved/ under-represented populations.