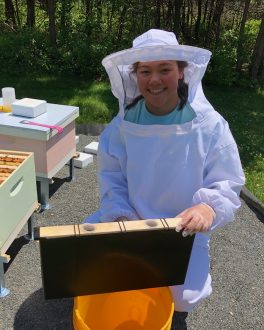 What do beekeepers, statisticians, mathematicians and robotics engineers have in common? They are all STEM careers. We sat down with Katie Culbert, the host of AEOP's new Profiles in STEM series to talk about how AEOP has introduced her to a wide range of STEM careers and ignited a new passion for beekeeping.
Katie Culbert, a rising high school sophomore, first got involved in AEOP last summer when she participated in the 2020 AEOP Alumni Challenge, Bee Remarkable. The challenge, which was introduced during COVID-19 as a way to engage kids in STEM from home, encouraged students to find a sustainable solution to save the number of declining pollinators.
Katie, who has long recognized the important role that bees play in our environment, was inspired to participate. She reflects that "the challenge increased my awareness of the worldwide depleting honey bee population." During her research, she discovered that "the single greatest contributor to the decline of honeybee health is the Varroa destructor mite. I learned a single mite can shorten the lifespan of a bee by one-third, and two mites can shorten it by one-half…It's crazy. Before AEOP, I don't think I ever would have been near bees, and now I have my own beehives."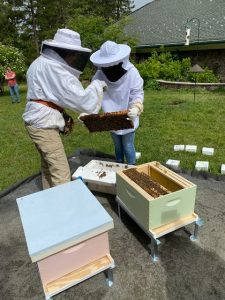 Katie highlighted the impact that AEOP programs can have and emphasized how they have introduced her to this new passion. "These programs inspire students like me to explore STEM. AEOP has helped me find a new passion, beekeeping, something I didn't know that I was interested in until I entered AEOP's contest."
During her time in the program, Katie made use of AEOP's larger network and engaged local and state beekeepers, beekeeping associations, as well as faculty from Rutgers, Stockton, and the University of Florida for her research project. She turned her beekeeping passion into top placements at science fairs and will be continuing her research this fall. Katie has also made a significant effort to include public engagement in her projects. She enjoys connecting with her community, particularly educating children and students, about the world's most important pollinator.
This STEM superstar will be hosting AEOP Membership's new series, Profiles in STEM. In each episode, Katie will interview a different professional about their STEM journey. Her goal is to have the audience learn about the wide variety of STEM pathways and "how awesome STEM can be." Katie also hopes that through this series, people can combat misperceptions about STEM, like having to be a math or computer genius to pursue a STEM career.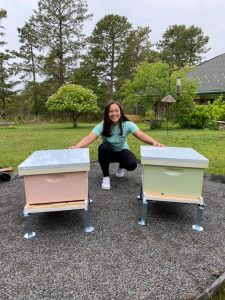 When asked what is her dream job would be Katie replied, "I don't know what I want to be when I grow up. I know that I really love STEM and I really enjoy learning about math and science. The beauty is that with STEM, there's so many options out there. My hope is to find a job that doesn't feel like work but rather something that I enjoy and is my passion. I'm confident that there's something out there, I just have to keep exploring."
Whether you have passion or curiosity for beekeeping, math, statistics, science, engineering or simply discovering and exploring new things, Katie encourages you to follow AEOP's Profiles in STEM series and join her in her STEM career research journey. "Tune into Profiles in STEM because you will learn a lot! The people I've interviewed so far are really interesting and have amazing jobs. They glow when they talk about what they love. You can see their passion!"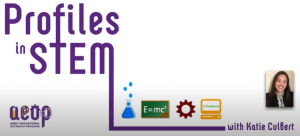 Keep an eye out of the Profiles in STEM Series which launches in July. The videos will live in the webinars tab under Membership. You can also follow Katie and her bees at Jakes Branch County Park on her YouTube channel, Katie's Adventures in Beekeeping, or on Instagram @kt.bees.
Find a Volunteering Opportunity
Visit our Program Volunteers page for a tool to find the best opportunity for you.
eCYBERMISSION Grants
The eCYBERMISSION Mini-Grant is intended to support teachers/program leaders as they implement eCYBERMISSION with their teams. Educators (formal and informal) of students in grades 6-9 are encouraged to apply. Special consideration is given to Title 1 schools and to those with underserved/ under-represented populations.