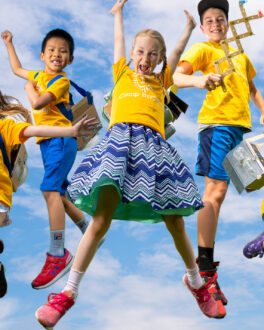 The National Inventors Hall of Fame® (NIHF) and AEOP are celebrating a decade-long partnership that has resulted in sowing these seeds of innovation!
More than 2,000 children with military family connections in Alabama, Arizona, California, Florida, Illinois, Maryland, Massachusetts, Mississippi, New Mexico and Texas engage in Camp Invention® annually!
Through dynamic, hands-on activities that boost STEM skills and inventive confidence, the Camp Invention experience helps children develop an innovative mindset — cultivating the important qualities of creativity and persistence.
This programming came during a very important time when children so desperately needed fun, empowering opportunities to make, create and have social interactions that spark their love for learning. Children are naturally curious, and this partnership maximizes their curiosity by helping them think big and dream up a better tomorrow.
By practicing problem solving and design engineering, children develop the critical and creative thinking skills that will allow them to be the scientists, inventors, innovators, entrepreneurs and change makers of tomorrow. The future looks even brighter through the powerful partnership of AEOP and NIHF!
Learn more about Camp Invention and find a program near you, here.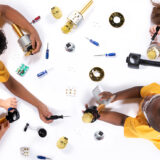 Camp Invention
Camp Invention® is a weeklong summer adventure with activities that help you explore the connections between science, technology, engineering and innovation.
More About Camp Invention
Find a Volunteering Opportunity
Visit our Program Volunteers page for a tool to find the best opportunity for you.
eCYBERMISSION Grants
The eCYBERMISSION Mini-Grant is intended to support teachers/program leaders as they implement eCYBERMISSION with their teams. Educators (formal and informal) of students in grades 6-9 are encouraged to apply. Special consideration is given to Title 1 schools and to those with underserved/ under-represented populations.