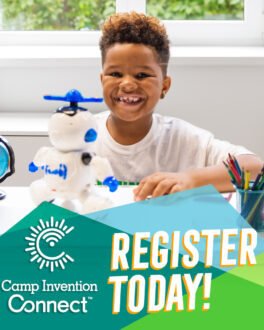 Camp Invention (CI) was not able to offer its typical summer programming, so they brought CI to the homes of their students with Camp Invention Connect! This summer, young inventors are joining CI Connect virtually and exploring the world of STEM from home. Upon registration, participants are mailed activity kits, which are packed full of the materials they need for the week's activity. Over the course of the week, students are given daily challenges that encourage children to go outdoors, get active and stretch their imaginations. To adapt to the unique needs of our learners, the activities are designed as a screen-free, self-led experience, with the added option to connect with certified education Coaches and fellow campers for online collaboration sessions.
Our inventors in Danville, Ill. signed on to Zoom this week for some quality STEM exploration! Watch a video from Facebook highlighting the week's activities, here. Leading up to CI Connect, the students received their activity kits chock full of the materials they needed. To ensure the students had the necessary support, they were then divided into groups led by our team leaders, who guided the activities. Our young inventors had the chance to interact with their team leaders and fellow team members as they explored the exciting world of STEM. Thank you to the coaches and parents for making CI Connect possible!
Camp Invention is week-long summer program for K-6 grade students, exposing them to the exciting worlds of science, technology, engineering and innovation. CI is administered by the National Inventors Hall of Fame. Learn more about Camp Invention here. Learn more about Camp Invention Connect and find a program near you, here.
If you, or your learner at home, are joining AEOP for CI Connect, share you photos and videos showcasing your activities and tag AEOP on Facebook, Instagram and Twitter!
Find a Volunteering Opportunity
Visit our Program Volunteers page for a tool to find the best opportunity for you.
eCYBERMISSION Grants
The eCYBERMISSION Mini-Grant is intended to support teachers/program leaders as they implement eCYBERMISSION with their teams. Educators (formal and informal) of students in grades 6-9 are encouraged to apply. Special consideration is given to Title 1 schools and to those with underserved/ under-represented populations.