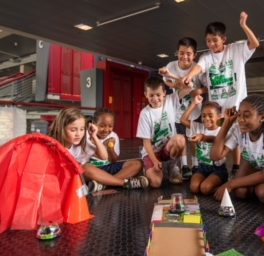 Late last year, the White House released its five-year STEM Education Strategic Plan, which is "based on a vision for a future where all Americans will have lifelong access to high-quality STEM education and the United States will be the global leader in STEM literacy, innovation and employment."
At Camp Invention, the National Inventors Hall of Fame flagship invention education program, we take the challenge of providing access to high-quality STEM education very seriously. We know that, in this rapidly changing world, STEM skills are in high demand. They are and will continue to be the tools necessary to address the complex challenges of today and tomorrow.
The Camp Invention program is a week-long summer learning opportunity for children in K-6th grade. The program provides a foundation for STEM disciplines – such as computer programming, structural engineering, model-making and even paleontology. More importantly, it aligns with the White House's stated vision and goals, including:
Build strong foundations for STEM literacy
Increase diversity, equity and inclusion in STEM
Prepare the STEM workforce of the future
Building strong foundations for STEM literacy, and, we would argue, a passion for STEM, is critical to preparing children for the challenges of today's world. At Camp Invention, participants receive inspiration rooted in real-world challenges. They might program a robot to follow a designated path, build a bridge for a remote-controlled toy, turn sketches into prototypes using clay or dig for fossils that will reveal clues to a mystery. Throughout the program, children are introduced to problems that are interesting and exciting to solve, as well as inspire intellectual curiosity.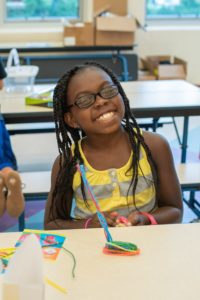 Increasing diversity, equity and inclusion in STEM is an effort we are proud to be undertaking. With supportive partners like AEOP, Camp Invention's high-quality STEM program has reached underserved and underrepresented children in Alabama, Arizona, Florida, Illinois, Maryland, Massachusetts, Mississippi, New Jersey, New Mexico and Texas.
And, finally, at every step of the program children are supported by local, licensed educators who guide them to think big, take risks and rebound from failure. Having access to these role models in a safe space, children feel empowered to explore their ideas and practice those in-demand skills, including courage, creative thinking and risk-taking. Ultimately, we know that these opportunities are critical in building – and empowering – the STEM workforce of the future.
Discover more about Camp Invention opportunities or contact Hazel Anderson for more information.
Find a Volunteering Opportunity
Visit our Program Volunteers page for a tool to find the best opportunity for you.
eCYBERMISSION Grants
The eCYBERMISSION Mini-Grant is intended to support teachers/program leaders as they implement eCYBERMISSION with their teams. Educators (formal and informal) of students in grades 6-9 are encouraged to apply. Special consideration is given to Title 1 schools and to those with underserved/ under-represented populations.