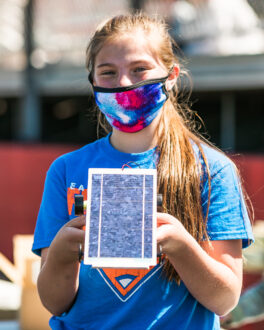 Located an hour outside of Nashville is the Clarksville-Montgomery County School System (CMCSS), which serves around 38,000 students in Clarksville, Tennessee. At CMCSS, Karen Harper serves as the Science, Technology, Engineering and Mathematics (STEM) and Science Curriculum Consulting Teacher for K-8.In this position, it is Karen's responsibility to connect her students from 25 elementary and seven middle schools with quality learning opportunities that will empower and inspire them to become the next generation of STEM leaders.
While investigating potential programs to bring to her students, the CMCSS Instruction and Curriculum Department came across AEOP's Junior Solar Sprint (JSS) and thought it was the perfect fit. In March of 2020, Karen received the green light to bring JSS to her schools, then the pandemic hit and all instruction shifted to virtual. While adjusting to the new challenges brought on by COVID-19, Karen put a pause on launching JSS. By August of 2020, Karen and her team were ready to kickstart JSS for its inaugural year. With the unexpected school closures and the added safety requirements brought on by COVID, the team knew to implement JSS they would have to get creative.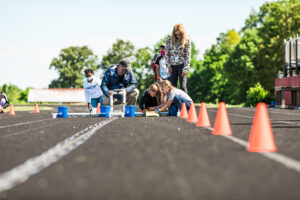 Launching JSS in a virtual environment was a challenge, but through commitment, teamwork and creativity, Karen and her team were able to make their JSS dreams a reality. JSS was implemented in five elementary schools in fifth grade classes and five middle schools throughout CMCSS. To reach students at home, each of the selected schools started a virtual STEM club to work on their solar cars. The JSS STEM clubs met on a recurring basis from February through April. The teachers led their students through the JSS curriculum and students could ask questions about their cars.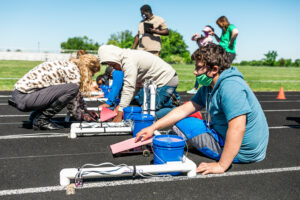 "All of the teachers who served as JSS coaches were thrilled to be involved in a program that was actively engaging their students in hands-on STEM learning. Even though it was sometimes difficult to troubleshoot the issues virtually, all of us were learning and working together," says Karen. "It was remarkable that despite the uncertainty and challenges our teachers were facing due to COVID-19, they were still willing to launch a new program for the benefit of their students."
To culminate the students' and teachers' hard work, CMCSS held a JSS race in May at Rossview High School in Clarksville. The district rallied together and volunteered their time to put on the event. AEOP donated two full race track kits to time the cars. In total, 57 students raced their solar cars. Mimicking the regional and national JSS races, each car was inspected with the same rubric. One staff member created a bracket and another created an app so attendees could follow along with race times and standings.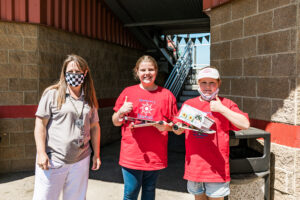 "It was amazing to watch our CMCSS community jump into action. Everyone pitched in to make the JSS race possible," Karen explains. "After such a challenging school year, it was great to be able to give the students a safe, in-person opportunity to show off their hard work!"
Looking to this school year, Karen is excited to get more students involved in JSS and keep expanding the program. And after last year's JSS success, Karen is also looking into bringing AEOP's eCYBERMISSION to her students as well as expanding Camp Invention to reach more students. 
Interested in bringing Junior Solar Sprint to your school? Learn more here and contact Sue King at sking@tsaweb.org.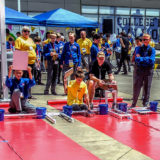 Junior Solar Sprint (JSS)
Junior Solar Sprint (JSS) is a competition for middle school students to create the fastest, most interesting and best crafted solar-vehicle possible.
More About Junior Solar Sprint (JSS)
Find a Volunteering Opportunity
Visit our Program Volunteers page for a tool to find the best opportunity for you.
eCYBERMISSION Grants
The eCYBERMISSION Mini-Grant is intended to support teachers/program leaders as they implement eCYBERMISSION with their teams. Educators (formal and informal) of students in grades 6-9 are encouraged to apply. Special consideration is given to Title 1 schools and to those with underserved/ under-represented populations.