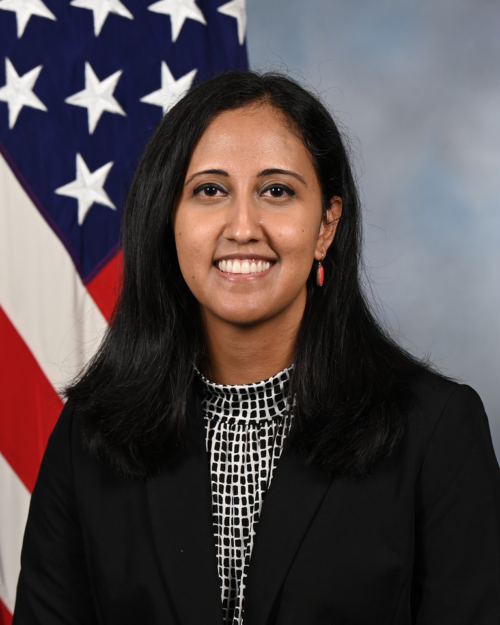 Hema Manivannan, a dedicated systems engineer at the Department of the Army, is crafting more than just policies — she's building the future of STEM. From her role at the Department of the Army to her involvement in the world of STEM outreach, she's on a mission to inspire future minds and create a cycle of greatness in the field. 
Hema's AEOP Journey 
Hema's involvement with the Army Educational Outreach Program (AEOP) started in May 2023 and opened new opportunities for her to explore her passion for STEM outreach. Having been involved in engaging communities and fostering the next generation of STEM professionals since her college days, AEOP provided a perfect platform for Hema to continue shaping the future of students.
What drew her to AEOP was its sense of community and being able to work with like-minded individuals committed to fostering positive change. She wasted no time jumping into volunteer activities. She loves how it complements her career in the Army.
Hema decided to join eCYBERMISSION, a virtual middle school STEM competition. For her, this has been a great platform for students to dive into the world of STEM. It offers them hands-on experience, including research, prototyping and the engineering design process. It's an opportunity for students to experiment and explore their passions.
As a CyberGuide, she gets to work directly with students, providing timely advice and resources. She calls it "lighting the torch" as students journey through the competition cycle. This role allows her to provide immediate feedback and engage with students and Team Advisorson research, testing and more.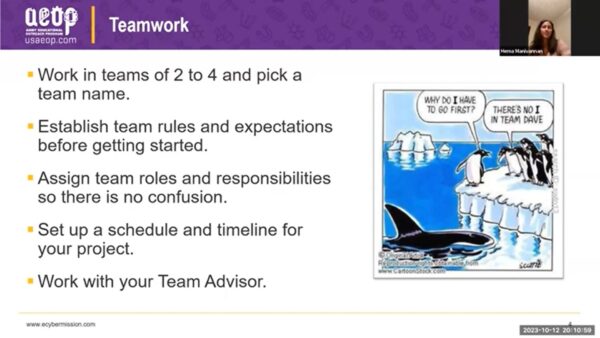 Now, she serves as an Ambassador and a Virtual Judge, where she continues to mentor students in a variety of ways. Her experience as a Virtual Judge in other STEM programs has given her valuable insights into the process, allowing her to guide students effectively.
One of her favorite memories was participating in a CyberGuide Live Chat. It was her first time in this role, and she enjoyed the discussion with moderators and other invited speakers. They talked about teamwork, collaboration, generating STEM project ideas, and they fielded questions from teachers and students. 
Empowering Tomorrow's Leaders
Mentoring is another significant part of her involvement with eCYBERMISSION. Hema recognizes the importance of mentoring the next generation of STEM professionals, just as she was once guided by teachers, advisors and others. She hopes to do the same in eCYBERMISSION and build the next generation of future innovators.
Engaging with students has shaped her in profound ways. Hema highlights the importance of thinking creatively without restrictions, much like students do. This mindset of thinking "outside the box," allows the creative juices to flow freely. She encourages others, including her fellow engineers, to embrace this unlimited sense of creativity to find innovative solutions to everyday problems.
Her Advice for Aspiring STEM Students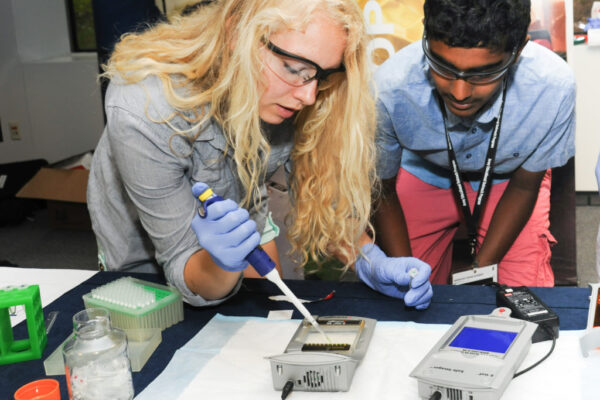 When asked if she had any advice for students interested in STEM, her message was simple: "go for it." Embrace the opportunities, participate in competitions, pursue knowledge. Even if you stumble, it's a learning experience, and the STEM community is here to support you, to lift you up, and help you achieve your dreams. You can't miss the shots you don't take! 
The next CyberGuide live chat will be held on November 16 and is open to all students and Team Advisors registered for eCYBERMISSION! Register for eCYBERMISSION at www.ecybermission.com/register and tune in. 
About eCYBERMISSION
To learn more about eCYBERMISSION…
Visit https://www.ecybermission.com/ or email missioncontrol@ecybermission.com for more information.
eCYBERMISSION is a virtual STEM competition for 6th to 9th grade students that promotes teamwork, self-discovery and the real-life applications of STEM. Students work in teams of two to four, led by an adult Team Advisor, and select a problem in their community to investigate with science or solve with engineering. Throughout the competition, students work on team building and interact with STEM professionals while competing for state, regional, and national awards in the form of savings bonds. The National Science Teaching Association (NSTA) administers eCYBERMISSION on behalf of AEOP.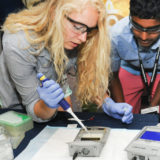 eCYBERMISSION
eCYBERMISSION is a virtual STEM competition for students in grades 6 to 9 that offers students the opportunity to explore STEM in a real-world setting.
More About eCYBERMISSION
Find a Volunteering Opportunity
Visit our Program Volunteers page for a tool to find the best opportunity for you.
eCYBERMISSION Grants
The eCYBERMISSION Mini-Grant is intended to support teachers/program leaders as they implement eCYBERMISSION with their teams. Educators (formal and informal) of students in grades 6-9 are encouraged to apply. Special consideration is given to Title 1 schools and to those with underserved/ under-represented populations.