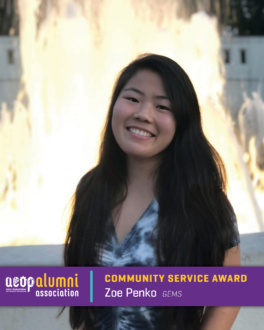 Every year, the AEOP Alumni Association has the honor of celebrating some of the inspirational teachers, students and mentors who have participated in AEOP programs. With an outpouring of nominations, the 2018 class of award winners proved to be exceptional participants in a pool of dedicated STEM educators and learners.
One of these exceptional participants is Zoe Penko. Zoe is the winner of the Community Service Award for her commitment to supporting those around her as a student and a mentor. During her freshman year at the University of Alabama at Birmingham (UAB), Zoe volunteered 10 hours per week for 1.5 semester in an after-school mentorship program that aimed to inspire middle school students in primarily engineering-focused topics. She is also an active member of the Society of Woman Engineers and helped sponsor their spring event, "Kids in Engineering Day" which offers hands-on science activities for local children interested in STEM. She is an enthusiastic mentor who has encouraged and developed future STEM leaders while pursuing her own academic and professional success, which includes an internship at Honda and residing as the President for the UAB chapter of the American Society of Mechanical Engineers.
Zoe is one of six inspiring winners this year, and we encourage you to learn more her and the rest of the 2018 Alumni Association award winners here.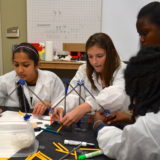 Gains in the Education of Mathematics and Science (GEMS)
Gains in the Education of Mathematics and Science (GEMS) is an U.S. Army-sponsored, summer STEM enrichment program for middle and high school students that takes place in participating U.S. Army research laboratories and engineering centers.
More About Gains in the Education of Mathematics and Science (GEMS)
Find a Volunteering Opportunity
Visit our Program Volunteers page for a tool to find the best opportunity for you.
eCYBERMISSION Grants
The eCYBERMISSION Mini-Grant is intended to support teachers/program leaders as they implement eCYBERMISSION with their teams. Educators (formal and informal) of students in grades 6-9 are encouraged to apply. Special consideration is given to Title 1 schools and to those with underserved/ under-represented populations.