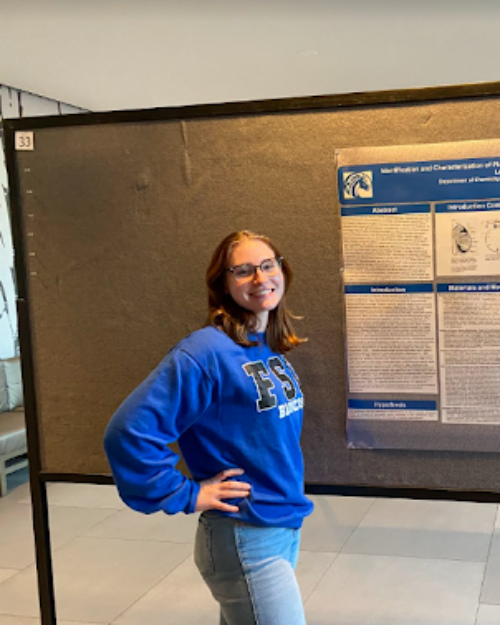 You participate in an AEOP program, have the opportunity to conduct amazing research… What next? For Lela Lesniak, it was presenting her research at a national STEM conference.
Lela is a senior in high school from Fayetteville, North Carolina. As a member of her local TRIO program, she heard about the AEOP High School Apprenticeship program and was immediately interested. In the past, Lela had conducted minor biology and chemistry experiments, but did not have any formal lab or research experience. During the summer of 2021, Lela joined Dr. Subir Nagdas, a professor of biochemistry, in his biochemistry lab at Fayetteville State University. 
"Working in a biochemistry lab forced me to learn the basics of research and biochem," said Lela. "I learned how to use a micropipette, estimate protein using the method of Bradford and much more. Even though I don't plan to study biochemistry in college, my AEOP apprenticeship experience opened so many doors of opportunity for me."
As the summer came to an end, Dr. Nagdas invited Lela to continue her research as well as present at the Louis Stokes Midwest Regional Center of Excellence (LSMRCE) Conference outside of Chicago. After receiving the AEOP Travel Award, Lela was able to attend the LSMRCE Conference this October where she presented a poster titled, Identification and Characterization of Plasma Membrane Glycoproteins in Bovine Epididymal Spermatozoa. 
"My favorite part about presenting at the LSMRCE conference was meeting new people, networking and learning about their education paths," said Lela. "After my presentation, people kept asking me what year of college I was in; they were shocked to hear I was still in high school!"
During the conference, Lela met several professors from a variety of schools and has even been invited to interview with researchers at the University of Virginia, Emory University and Tumblehome Learning, Inc. about potential undergraduate research opportunities. 
"The AEOP Travel Award made traveling to Chicago and making all these connections possible. If you're considering applying, do it!" said Lela. 
AEOP can help you take the next step in your STEM journey with a Travel Award. Open to current and alumni participants of any AEOP program. Learn more and apply today, here!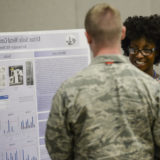 Travel Awards
Engage in technical symposia to showcase the STEM research you're doing now, or that you did in an AEOP program!
More About Travel Awards
Find a Volunteering Opportunity
Visit our Program Volunteers page for a tool to find the best opportunity for you.
eCYBERMISSION Grants
The eCYBERMISSION Mini-Grant is intended to support teachers/program leaders as they implement eCYBERMISSION with their teams. Educators (formal and informal) of students in grades 6-9 are encouraged to apply. Special consideration is given to Title 1 schools and to those with underserved/ under-represented populations.