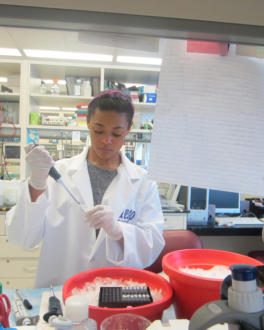 In summer 2018, more high school students will have more opportunities to explore STEM careers and gain hands-on research experience in REAP (Research and Engineering Apprenticeship Program)!
60 university labs will mentor students in 27 states and Puerto Rico. REAP apprentices work on projects in well-known fields such as biology, chemistry and physics as well as lesser-known areas of research in nanotechnology and data science. The goal of each experience is the same: introduce STEM research processes and careers to students who represent underserved populations. Most REAP students have not considered studying STEM topics beyond high school. Even fewer know professionals in science, technology, engineering, or math. Yet by the end of the summer, they have a new perspective of experimentation and a better understanding of careers that will match their interests and passions.
What do you think life is like inside research labs? Decades of apprentices in REAP know the answer. Originally launched by the U.S. Army Research Laboratory in the 1970s, REAP is designed to do away with the mystery of STEM careers for high school students who traditionally don't have these rare opportunities.
REAP opens students' eyes and opens doors to a STEM future. Students work shoulder to shoulder with faculty, graduate students and lab staff who are conducting professional, high-level research. Apprentices know little about the field and lab techniques when they start but over the course of the summer they learn research techniques, run experiments and have reportable results at the end of the 7-week program. Along the way, apprentices pick-up a greater understanding of STEM fields.
REAP isn't just about research. Apprentices gain solid professional skills too, including:
Presentation skills: Most REAP labs hold mini-symposia where apprentices present their research process and findings. These sessions follow the exact format that research scientists and engineers use to share their findings and ask/answers questions to advance projects.
Professional insight: REAP reveals how STEM professionals apply their education, follow their passion and stay motivated through setbacks. Apprentices see first-hand how an idea or problem to be solved moves from concept to testing and development to real-world applications.
Drive: Everyone appreciates how difficult science, engineering and math are to study. Apprentices see career professionals through the highs and lows of lab failures and successes. The drive and motivation are contagious!
Work experience: Apprentices meet the demands of today's workplace. As part of a research team, they know that their mentors and fellow lab staff depend on them to be one time, work hard and contribute to the challenge at hand.
Exploration of new topics: Diving into REAP projects, apprentices learn about topics that they never knew existed. In the end, some fall in love with the field and some come to appreciate the work but learn that another field would be better suited for them.
Applications are open! Find REAP near you & apply before Feb 28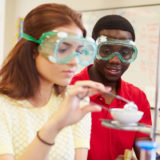 Research & Engineering Apprenticeship Program (REAP)
Research & Engineering Apprenticeship Program is a summer research apprenticeships at area colleges and universities for students historically underrepresented in STEM.
More About Research & Engineering Apprenticeship Program (REAP)
Find a Volunteering Opportunity
Visit our Program Volunteers page for a tool to find the best opportunity for you.
eCYBERMISSION Grants
The eCYBERMISSION Mini-Grant is intended to support teachers/program leaders as they implement eCYBERMISSION with their teams. Educators (formal and informal) of students in grades 6-9 are encouraged to apply. Special consideration is given to Title 1 schools and to those with underserved/ under-represented populations.