PROGRAM OVERVIEW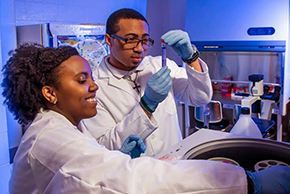 Research & Engineering Apprenticeship Program (REAP) is a summer STEM program that places talented high school students, from groups historically under-represented and underserved in STEM, in research apprenticeships at area colleges and universities. REAP apprentices work under the direct supervision of a mentor on a hands-on research project. REAP apprentices are exposed to the real world of research, they gain valuable mentorship, and they learn about education and career opportunities in STEM. REAP apprenticeships are 5-8 weeks in length (minimum of 200 hours) and apprentices receive a stipend.

ATTENTION UNIVERSITIES!!
If you are interested in being a REAP host site for the 2016 and 2017 program cycles, please refer to the 2016 REAP RFP to the left.
Proposals are due no later than 5:00pm, EST, Wednesday, December 16, 2015.
Program Goals
To provide high-school students from groups historically under-represented and underserved in STEM, including alumni of the AEOP's UNITE program, with an authentic science and engineering research experience
To introduce students to the Army's interest in science and engineering research and the associated opportunities offered through the AEOP
To provide participants with mentorship from a scientist or engineer for professional and academic development purposes
To develop participants' skills to prepare them for competitive entry into science and engineering undergraduate programs
What is the REAP apprenticeship experience?
REAP apprentices are high-school age students selected for their interest in science, technology, engineering and mathematics (STEM). Special consideration is given to under-represented groups.
The REAP Experience is designed to:
Motivate students toward a career in science, mathematics, or technology.
Expand students' background and understanding of scientific research.
Engage students' active participation into the philosophy and objectives of scientific research.
Expose students to science experiences not readily available in high school.
Introduce students to the real world of research in these fields.
Partner students with faculty mentors to support current and future professional growth and development.
What do participants gain from a REAP apprenticeship?
REAP apprentices typically spend a summer in a university research program under the tutelage of a professional mentor, performing experiments and carrying out research activities that immerse them in the realities and opportunities of careers in the applied sciences, engineering and mathematics, changing attitudes and firing the imagination of student participants—many who have but a general idea of what a career in these areas entails, and little or no contact with adults doing this work. Through the REAP experience, student participants are exposed to the real world of these careers and are able to see themselves as scientists and researchers.
Shoulder-to-Shoulder with Professionals
In a typical setting, students spend time applying their knowledge, performing experiments, participating in field trips or working in groups. REAP provides a much needed dimension to their education by allowing them opportunities to work shoulder to shoulder with researchers in university laboratories participating in original research, exploring interests and making informed educational and career decisions.
Personal Growth
The REAP experience allows students to find the answers to the questions they themselves pose about a topic. They develop their English language and presentation skills as they articulate the problems they have devised and through their efforts to solve them, they learn to learn on their own.       Throughout the summer, students mature both intellectually and emotionally, develop friendships and foster a good sense of collegiate life. Self discovery of personal strengths and weaknesses and the setting of educational and professional goals contribute to personal development. Dr. Rolando Quintana, Assistant Professor of Industrial Engineering at the University of Texas El Paso writes of his apprentices: "The confidence they have gained is immeasurable, knowing that their future is a college education. They also have access to a college professor for mentoring and guidance through their high school years, and perhaps most importantly, college student mentors."
Real World Contributions
Many students contribute specifically to the ongoing research of the laboratory project. Dr. Robert Thompson's research (University of Minnesota) was focused on using silicified plant cells to identify the use of corn in prehistoric pottery. He developed a research technique which allowed identification to a sub specific level, in other varieties of corn. In order to publish this research he needed to have someone duplicate his results. His apprentice Alison Boutin did just that and more. He writes: "Alison proved such a talented, driven, and reliable researcher that I was able to entrust that task to her, which allowed me to present this research at the Second International Congress of Phytolith Research in Aix-en-Provence, France. Remarkably, Alison was then able to take my research one step further, and present the results of her own work at the same conference."
The REAP Mentor
Mentors are the key to a successful REAP experience. Good mentors excite student interest and empower students to continue their education. Mentors are often renewed by nurturing the talents of their young protégé.
Dr. Robert Cody from Iowa State University writes: "I am firmly convinced that the program provides strong reinforcement for students interested in science and engineering as a career, and also provides high quality assistants for university research. I appreciate the opportunity to once again take part in the REAP program."
The REAP experience connects students with excellent role models and the opportunity to interact with some of the best faculty in the country.
The Mentor is Key
Where practicable, the mentor should be a person whose primary duties are hands-on bench work so that the apprentice interfaces continually with the mentor. Each mentor should be involved in the apprentice selection process and make the final decision on the students that will be accepted. A university may be awarded more than one grant and, accordingly, a mentor may oversee more than one apprentice. Mentors are encouraged to maintain contact with apprentices throughout their college experience.
Dr. Joseph Stucki from the University of Illinois, has been involved in REAP for many years. He feels it is a great opportunity for high school students and it also gives him the opportunity to maintain contacts with local schools. Universities view REAP as an asset to their communities, enriching their campuses by bringing bright young students to interact with faculty and providing valuable support to research projects. Many graduate students and others assist the mentors in their summer experience.
Dr. R.O. Buckius from the University of Illinois writes: "The program provides a valuable mechanism for young people to become familiar with the engineering profession. This particular apprenticeship is an excellent example of how the program can broaden a young person's goals."
Reporting and Evaluation
Within thirty (30) days after conclusion of the apprenticeship, a narrative letter report is submitted on each student employed as part of the program. The report must indicate the type and level of work performed by the student and an evaluation of the student's performance as well as comments and suggestions on this effort.
Eligibility and Applicant Requirements
REAP students must be from groups that are underserved and underrepresented in STEM. To qualify, students must be located within community distance of a REAP mentor (see program locations for a list), have demonstrated an interest in STEM research and demonstrated a potential for a successful career in STEM. Additionally, they self-identify as meeting two or more of the following criteria:
Student self-identifies as qualifying for free or reduced lunch.
Student self-identifies as a minority historically underrepresented in STEM (Alaskan Native, Native American, Black or African American, Hispanic, Native Hawaiian or other Pacific Islander)
Student is a female pursuing research in physical science, computer science, mathematics, or engineering.
Student receives special education services.
Student has a disability.
English is a second language for the student.
Student is a potential first-generation college student (parents did not attend college).
FREQUENTLY ASKED QUESTIONS
What is the purpose of REAP?
1) To motivate students toward a career in science, mathematics, or technology.
2) To expand students' background and understanding of scientific research.
3) To engage students' active participation into the philosophy and objectives of scientific research.
4) To expose students to science experiences not readily available in high school.
5) To introduce students to the real world of research in these fields.
6) To partner students with faculty mentors to support current and future professional growth and development.
How are apprentices chosen?
REAP apprentices are selected through a competitive application process and spaces are limited. The minimum qualifications for REAP are as follows:
1) Demonstrated interests in STEM research;
2) Demonstrated potential for a successful career in STEM; and
3) Member of a group historically underserved or underrepresented in STEM as defined by Federal criteria found at below links:
Visit the below website to view a publication of the National Science Foundation, 'Women, Minorities, and Persons with Disabilities in Science and Engineering, 2011." The NSF report, along with critical shortages in DoD and Federal research laboratories influences the eligibility criteria for REAP applicants.
http://www.nsf.gov/statistics/wmpd/pdf/nsf11309.pdf
Criteria applied to the selection of disadvantaged students may be found at the Department of Education, Federal TRIO website.
What does an apprentice do?
A REAP apprentice is expected to exert tangible efforts towards recognizable goals as participating members of a team. They must contribute to the work at hand, understand their contribution and, in general, understand what was accomplished. This is accomplished by training in any or all of the following: scientific method, lab and field research procedures, specialized equipment use and maintainance, computer programs and so one. All will be done under the direct supervision a mentor. (more on the REAP Apprentice page)
How can a high school become involved?
High school teachers and post-secondary institutions should contact Irene O'Mara (Program Director), Academy of Applied Science at (603) 228-4530 or by email at renie@aas-world.org.
Is there a role for alumni in the program?
We actively collect information on REAP alumni and are eager to hear about current activities and successes. Please contact Irene O'Mara at (603) 228-4530 or by email at renie@aas-world.org.
Who funds REAP?
REAP is funded by grants from the research offices of the U.S. Army. This sponsoring involvement is to ensure availability and improve the quality of people who are qualified and oriented to perform professional and support work in defense life and physical sciences—ultimately increasing the size and improving the quality of the U.S. defense technical community. On occasion, the participating colleges and universities fund apprentices via special scholarship programs.
Who administers REAP?
The Academy of Applied Science has administered the Research and Engineering Apprenticeship Program since its inception. The Academy draws on extensive experience in successfully managing and administering youth science programs with a specific focus on science and science research, including the Junior Science and Humanities Symposia Program and the Young Inventors' Program.
How many students benefit from the program each year?
About 120 students at over 50 colleges and universities nationwide participate in REAP each year.
How successful is the program?
Up to 90% of REAP participants go on to pursue math, science, or technology studies at the post-secondary level.
How long does the apprenticeship last?
Anywhere from 5 to 8 weeks, depending on the scope of the program at mentoring institution. Although designed primarily as a summer program, once the student is brought into the program, his/her progress and association with the sponsoring institution will be encouraged on a continuing basis, hopefully through college as he/she becomes eligible for other programs such as co-ops or internships. The program at the institution may be continued through the winter as an after-school job to ensure that the apprentice's motivation is maintained.
Is the apprentice paid?
Apprentices are paid a stipend for their research experience. The mentor has the discretion to use his/her portion of the grant funds to pay other research assistants for services rendered in accomplishing the program.
What are the criteria for mentor involvement?
Where practicable, the mentor will be a person whose primary duties are hands-on bench work so that the apprentice interfaces continually with the mentor. The mentor's situation should be one in which there is a significant amount of time spent in actually doing the research/engineering that the apprentice can observe, assist where practicable and be taught at the same time. Each mentor should be involved in the apprentice selection process and make the final decision on who will be accepted. An institution may be awarded more than one grant and, accordingly, a mentor may oversee more than one apprentice. The appropriateness of specific mentors is a critical element to program success.
GENERAL PROGRAM MILESTONES
| | |
| --- | --- |
| Jan: | Student application opens |
| Apr: | Applications due |
| Apr-Jun: | Selected students notified |
| Jul: | Students participate in REAP program |
 
PROGRAM LOCATIONS
Location code is designated in (*). Location code is required for application.
Alabama
Alabama State University – Montgomery, AL
Mathematics and Computer Science (ALSU1)
Biological Sciences (ALSU2)
University of Alabama – Huntsville, AL
Arizona
Arizona State University – Tempe, AZ
Math and Natural Science (AZSU)
Arkansas
University of Arkansas at Pine Bluff – Pine Bluff, AK
California
University of California, Berkeley – Berkeley, CA
Environmental Science and Policy (CAB)
Colorado
Colorado State University – Fort Collins, CO
University of Colorado, Boulder – Boulder, CO
Chemical and Biological Engineering (COB)
Delaware
Delaware State University – Dover, DE
Biological Sciences (DESU)
Florida
Miami Dade University – Miami, FL
University of Central Florida – Orlando, FL
University of South Florida – Tampa, FL
Mathematics and Statistics (FLS1)
STEM Education (FLS2)
Georgia
Clark Atlanta University – Atlanta, GA
Georgia State University – Atlanta, GA
Physics and Astronomy (GASU)
Illinois
Loyola University – Chicago, IL
Biological Sciences (ILLU)
Indiana
Ball State University – Muncie, IN
Physics and Astronomy (INBSU)
Iowa
University of Iowa – Iowa City, IA
Louisiana
Xavier University of Louisiana – New Orleans, LA
Pharmaceutical Sciences (LAXU)
Maryland
University of Maryland, Baltimore – Baltimore, MD
Center for Vascular and Inflammatory Diseases (MDB)
Massachusetts
University of Massachusetts, Lowell – Lowell, MA
Michigan
Michigan Technological University – Houghton, MI
Materials Science and Engineering (MITU)
Oakland University – Rochester, MI
Engineering and Computer Sciences (MIOU)
Mississippi
Jackson State University – Jackson, MS
Biological Sciences (MSJS)
Missouri
University of Missouri – Columbia, MO
Biological Sciences (MOU)
Montana
Montana State University – Bozeman, MT
New Hampshire
University of New Hampshire – Durham, NH
Molecular, Cellular and Biomedical Sciences (NHU)
New Jersey
New Jersey Institute of Technology – Newark, NJ
New Mexico
New Mexico State – Las Cruces, NM
Plant and Environmental Sciences (NMS)
New York
LeMoyne College – Syracuse, NY
Biological Sciences (NYLC)
North Carolina
North Carolina A&T State University – Greensboro, NC
Mechanical Engineering (NCAT)
North Carolina Central University – Durham, NC
Biology and Cancer Research (NCCU)
Puerto Rico
University of Puerto Rico – San Juan, PR
University of Puerto Rico at Humacao – Humacao, PR
Physics and Electronics (PRUH)
South Dakota
South Dakota School of Mines – Rapid City, SD
Materials and Metallurgical Engineering (SDSM)
Texas
Texas Southern – Houston, TX
Texas Tech University – Lubbock, TX
Electrical and Computer Engineering (TXTU)
University of Houston – Houston, TX
Biology and Biochemistry (TXH)
University of Texas, El Paso – El Paso, TX
Utah
University of Utah – Salt Lake City, UT
Washington
University of Washington – Seattle, WA

The 2016 REAP application will open January 4, 2016!

CONTACT
For general program inquiries, contact:
Academy of Applied Science
Email: renie@aas-world.org
Phone: 603-228-4520