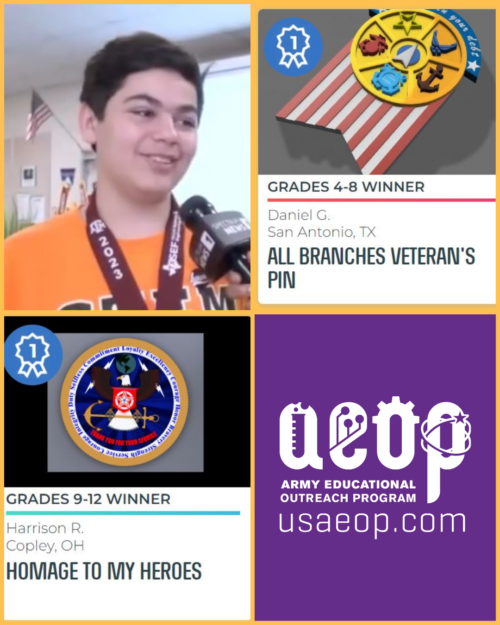 The "We (Heart) Veterans Pin Design Challenge," a joint effort of the Army Educational Outreach Program (AEOP) and Future Engineers, today announced the 2023 challenge winners. In the second year of this competition, students from across the country in grades four through 12 put their creativity and engineering skills to the test to design a 3D pin that gives thanks to our U.S. military veterans.
"It was amazing to see how the challenge has grown in year two," said Christina L. Weber, Chief of STEM Education & Outreach and AEOP Cooperative Agreement Manager at the U.S. Army Combat Capabilities Development Command (DEVCOM HQ). "Engaging, hands-on activities spark a lasting curiosity and interest in STEM. Thank you to all of those who volunteered to judge this year's challenge and congratulations to our winners and to all the students who participated."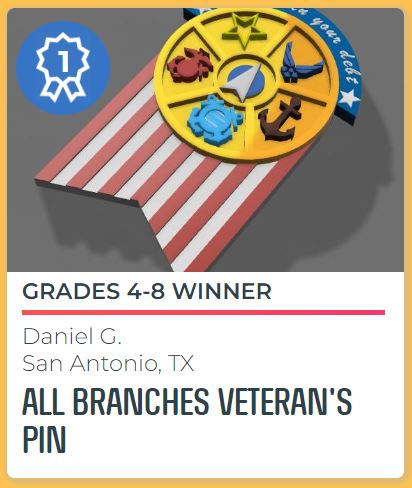 "We are incredibly proud of all the students who participated in the 3D pin design challenge honoring veterans this year," said Deanne Bell, Founder and CEO of Future Engineers. "We look forward to watching these students continue to explore the world of STEM and learn about our country's armed forces."
Out of 20 finalists, 10 from grades four through eight and 10 from nine through 12, the two grand prize winners are Daniel Grinman Rivera, a seventh grade student from San Antonio, Texas, and Harrison Rothschild, an 11th grade student from Copley, Ohio. The two winners will visit Columbus, Ohio, to attend a special Memorial Day event at the National Veterans Memorial and Museum. The winners will also receive a 3D printer donated to the school, library or organization of their choice! View Daniel's design here and Harrison's design here. 
"[My] design is meant to celebrate and remember all of the United States military branches, while honorably saluting them with a ribbon-like design," explained Daniel. "On the pin, there is a blue semi-ring displaying the words "forever in your debt" explaining that citizens of the United States will forever be in our veteran's debt."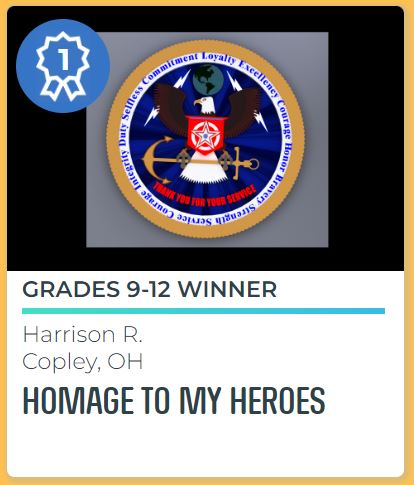 "Growing up, I heard stories of my grandfathers fighting for a country that they called home," said Harrison. "Braving the journey to America, one escaped the grasp of Nazi Germany and the other, Mao Zedong's brutality. Inspired by the land of freedom, they took a stand. They are my heroes and I wanted to pay homage to them [with my pin design]."
All of our 20 finalists will have their pin designs 3D printed and distributed at the Memorial Day event. Thank you to all students who participated in the We (Heart) Veterans Pin Design Challenge and showed their appreciation for our veterans. Learn more about the challenge and how you can participate here. View the full submission gallery here. 
Find a Volunteering Opportunity
Visit our Program Volunteers page for a tool to find the best opportunity for you.
eCYBERMISSION Grants
The eCYBERMISSION Mini-Grant is intended to support teachers/program leaders as they implement eCYBERMISSION with their teams. Educators (formal and informal) of students in grades 6-9 are encouraged to apply. Special consideration is given to Title 1 schools and to those with underserved/ under-represented populations.