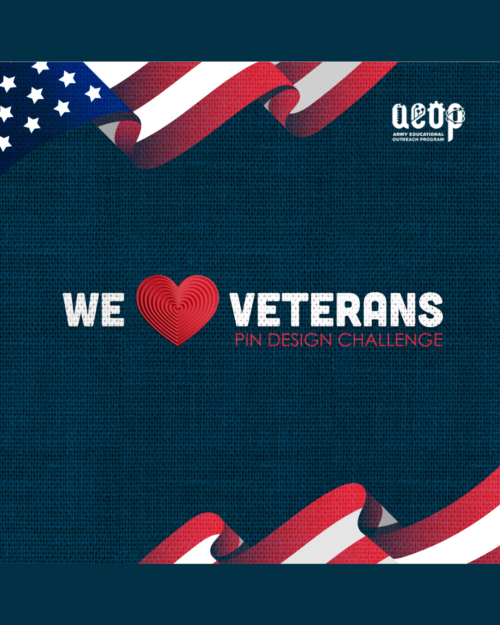 Feb. 23, 2022 – The "We (Heart) Veterans Pin Design Challenge," a joint effort of the Army Educational Outreach Program (AEOP) and Future Engineers, today announced the 2023 challenge finalists. Students were tasked with crafting a 3D pin design that shows their appreciation for our veterans using their engineering skills and creativity.
There are 10 finalists from each competition grade level, 4th-8th grade and 9th-12th grade, 20 total. The pin designs from these finalists will now go on to the final round of judging for a chance to win the challenge, with one winner at each grade level. The 20 finalists will have their designs 3D printed and handed out to veterans who visit the National Veterans Memorial and Museum in Columbus, Ohio. Finalists will also each receive five prints of their design and a $100 gift card toward a professional 3D print. 
"We were impressed by the creativity and ingenuity of this year's pin designs," said Christina L. Weber, Chief of STEM Education & Outreach and AEOP Cooperative Agreement Manager at the U.S. Army Combat Capabilities Development Command (DEVCOM HQ). "It is so inspiring to see the creative ways our future STEM leaders show their appreciation for our veterans."
"We were overwhelmed with the detailed submissions we received from students across the country who exercised their STEM skills to express themselves in a thoughtful way," said Future Engineers founder and CEO, Deanne Bell. "The real-world application this challenge provides when the winners' pins are handed to veterans really hits home while bringing the importance of STEM learning full circle." 
The 4th-8th grade finalists 
The 9th-12th grade finalists
The We (Heart) Veterans Pin Design Challenge winners will be announced on April 4th during Month of the Military Child. The two grand prize winners, one from each grade level, will win a trip for two to Columbus, OH, to attend a special event on Memorial Day at the National Veterans Memorial and Museum. The two winners will also receive a 3D printer donated to the school, library or organization of their choice! View the full finalist gallery, here. 
Find a Volunteering Opportunity
Visit our Program Volunteers page for a tool to find the best opportunity for you.
eCYBERMISSION Grants
The eCYBERMISSION Mini-Grant is intended to support teachers/program leaders as they implement eCYBERMISSION with their teams. Educators (formal and informal) of students in grades 6-9 are encouraged to apply. Special consideration is given to Title 1 schools and to those with underserved/ under-represented populations.