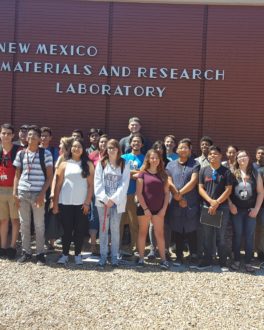 As college approaches, deciding which major you are going to pursue can seem overwhelming, and with hundreds of STEM pathways available, knowing which path is right for you can seem like an impossible choice to make. Over the past few years, the Unite program at the University of New Mexico (UNM) has worked to mitigate the stress that's often associated with these choices by giving Unite students the opportunity to explore STEM facilities and speak with people who are in STEM careers.
AEOP's Unite program provide students in grades nine through 12 with an academically enriching summer experience focused on the exploration of various STEM majors and careers. The Unite program at the UNM invites STEM-curious students onto campus for four exciting weeks, including STEM-focused field trips to places like air force research labs. A few times a week, students participate in lunchtime meet and greets, in which they have the chance to engage with a variety of STEM professionals to hear about their experiences and pathways firsthand. These experiences, which typically feature at least 10 STEM professionals from diverse fields, have helped UNM Unite students understand the breadth of opportunity waiting for them in and after college!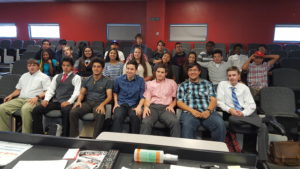 Evan, a junior studying at UNM and an intern at Sandia National Laboratories in The Global Chemical and Biological Security group (GCBS), participated in Unite at UNM in 2014 and 2015. Since his time in Unite, Evan has chosen to participate in another AEOP program; through the Research and Engineering Apprenticeship Program (REAP), he worked with a professor at UNM's Center for High Technology Materials. According to Evan, the REAP program is what led to his eventual internship at Sandia National Laboratories. He traces all his success on the path to a fulfilling STEM career to his participation in the Unite Program as a high school student. The exposure to so many different areas of engineering and computer science piqued his interests in all things STEM. Evan says, "In Unite, we did so many different things. Every day it was something new we were being introduced to. I loved that because I was able to see a variety of research areas and it helped me make my decision to study Computer Science."
Please contact Ms. Katherine Love with questions or for more information via phone (505-277-9921) or email katherin@unm.edu.
Find a Volunteering Opportunity
Visit our Program Volunteers page for a tool to find the best opportunity for you.
eCYBERMISSION Grants
The eCYBERMISSION Mini-Grant is intended to support teachers/program leaders as they implement eCYBERMISSION with their teams. Educators (formal and informal) of students in grades 6-9 are encouraged to apply. Special consideration is given to Title 1 schools and to those with underserved/ under-represented populations.