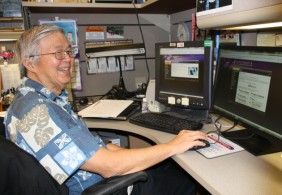 More than a dozen USACE professionals from the Pacific Ocean Division responded to a call for volunteers to be virtual judges February to March for the 2012/2013 eCYBERMISSION competition.
The U.S. Army's eCYBERMISSION program is a free, web-based science, technology, engineering and mathematics (STEM) competition for students in grades six through nine attending any U.S. or Department of Defense Educational Activity school. The program is designed to inspire young people to pursue careers in STEM fields and develop skills that are going to be required in order for today's students to be tomorrow's global leaders.
Find a Volunteering Opportunity
Visit our Program Volunteers page for a tool to find the best opportunity for you.
eCYBERMISSION Grants
The eCYBERMISSION Mini-Grant is intended to support teachers/program leaders as they implement eCYBERMISSION with their teams. Educators (formal and informal) of students in grades 6-9 are encouraged to apply. Special consideration is given to Title 1 schools and to those with underserved/ under-represented populations.