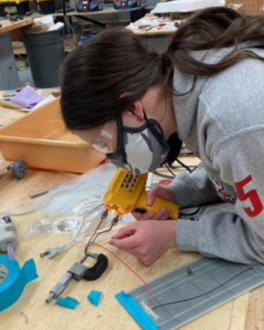 Middle school is a period marked by rapid cognitive development and identity formation, both of which demand peer interaction and intellectual discovery. When the pandemic upended in-person learning last March, students lost many channels for collaboration, as education quickly went online.
After 3 months of at-home learning, Gunnar Thomason, an engineering teacher at the Stevens Middle School in Port Angeles, Washington, knew that there was an renewed need for students to participate in hands-on learning and collaborate with peers. Over the summer, Gunnar was able to bring these essential in-person experiences back with the Junior Solar Sprint competition (JSS). The solar car competition for 5th through 8th grade students is designed to introduce students to STEM principles and build teamwork and problem-solving skills while creating the most interesting and best crafted solar-vehicle possible. 
In accordance with social distancing restrictions, Gunnar's 20 JSS students were given individual solar car kits and divided into morning and afternoon sessions. Although students were designing and building model cars individually rather than in teams, he designated a significant portion of the curriculum to testing and racing outdoors to facilitate organic collaboration between the students.. 
"When they are working together, in a time when social groups are tenuous or disappearing, they have to rely on each other," says Gunnar.  "By focusing on the model car, they have a channel to support their relationships."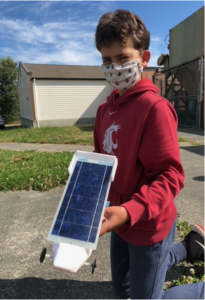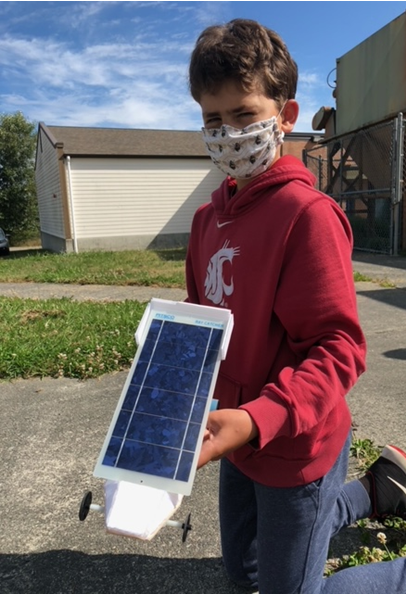 Learning from peers is vital, particularly when it comes to problem solving and hands-on learning. Most students had minimal to no knowledge of solar engineering, so the ability to observe others' tactical approaches in-person helped grow students' confidence.
Gunnar says there are typically one or two 'risk-takers' in the class which is crucial for teaching engineering principles. . "Even if their car fails, it gives other students the confidence to just try and helps them understand that it's ok to fail. Without other students in the vicinity to give students that confidence, there is a lot less risk taking which is a critical part of the engineering process."
Despite the additional planning and coordination needed for in-person environment, the Stevens Middle School students' engagement with STEM and collaboration with each other came at a very critical point in time. 
Through JSS, students were able to apply their unique perspectives and find innovative solutions together. "This time and place makes us feel like we need a right answer, but there are no right answers," Gunnar reflects. "It was really important to remind the kids of their strength, JSS helped them see that."
AEOP's Junior Solar Sprint program, which is free to teachers and students, is an educational program administered by the Technology Student Association for 5th through 8th grade students designed to introduce students to STEM principals while also building teamwork and problem-solving skills. The AEOP website is home to resources including tutorial videos, tools to help prepare for race day and many model lesson plans about car design, aerodynamics and solar power!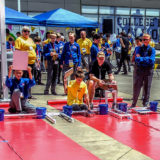 Junior Solar Sprint (JSS)
Junior Solar Sprint (JSS) is a competition for middle school students to create the fastest, most interesting and best crafted solar-vehicle possible.
More About Junior Solar Sprint (JSS)
Find a Volunteering Opportunity
Visit our Program Volunteers page for a tool to find the best opportunity for you.
eCYBERMISSION Grants
The eCYBERMISSION Mini-Grant is intended to support teachers/program leaders as they implement eCYBERMISSION with their teams. Educators (formal and informal) of students in grades 6-9 are encouraged to apply. Special consideration is given to Title 1 schools and to those with underserved/ under-represented populations.