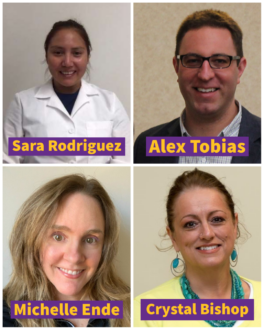 Each year, we invite people invested in inspiring and mentoring the next generation of STEM leaders to take part the eCYBERMISSION experience. Our volunteers include teachers, college professors, STEM professionals (military and civilian), college students and parents who serve as Ambassadors, CyberGuides and Virtual Judges!
Without the time and dedication of our volunteers, eCYBERMISSION would not be possible. We are always looking to grow our volunteer network and invite more people to join the mission. Volunteering with eCYBERMISSION is a great way to give back to your STEM community, not to mention it's a lot of fun, but don't take it from us.
We asked some of our volunteers what made eCYBERMISSION so special, here's what they had to say.
Our volunteers:
Sara Rodriguez is a Graduate Student and Graduate Teaching Assistant at the University of Colorado at Colorado Springs. She volunteered as a CyberGuide (2020-2021).
Alex Tobias is a chemical engineer at the U.S. Army Research Laboratory, Adelphi Laboratory Center. He volunteered as Virtual Judge (2018-2021), CyberGuide (2020-2021) and STEM-in-Action team mentor (2020).
Michelle Ende is a registered nurse. She volunteered as a virtual judge (2009-2021).
Crystal Bishop is a STEM Education and NASA Aerospace Education Laboratory Coordinator at West Virginia State University. She has served as an Ambassador.
What's one of your favorite memories from your time volunteering with eCYBERMISSION? Or what is your favorite part about volunteering?
Sara: I loved sharing my scientific work and projects with the students and sharing my motivations for starting a career in science. The best part of meeting with the students was the awesome questions they asked. They were so creative, curious, and excited! It reminded me of why I chose science!
Alex: My favorite part about volunteering is the students themselves – seeing their work as a judge and interacting with them as a CyberGuide or STEM-in-Action mentor. I actually gain a lot of personal inspiration for my own work and struggles from the students' enthusiasm, curiosity, optimism and "just do it" approach. Their energy really gets transferred to me. I also find it rewarding when I can be helpful by guiding the students to direct all that energy in the most promising or realistic directions, explaining how professional scientists and engineers would approach a problem, or introducing them to resources like the technical literature.
Michelle: My favorite part of volunteering is seeing how enthusiastic the young people are for science. It is fun for me to read their projects and look at the pictures some of them include with their submissions.
Crystal: I really like telling other people about the program: 1) It isn't costly therefore it provides an opportunity for ALL students to participate; 2) It is a project-based competition, therefore, it allows students to build and showcase hard and soft skill sets and it aligns to Science and Technology standards; 3) It lets students complete their work online and at their own pace in projects that interest them; 4) It provides youth a voice and opens a window to their community and real-world concerns; 5) It also provides an avenue for teachers to integrate real-world projects into their curriculum and at the same time connect youth to a wider audience and network; and 6) This program demonstrates that learning is not an isolated incident that occurs in the classroom only or within certain structures- it provides evidence that learning is all-around them and is continuous.
What would you tell someone considering volunteering with eCYBERMISSION?
Sara: Teaching science at the college level, I have found how these young, recently graduated high school students come to my labs a little cautious and unsure of their abilities to do well. While I try my best to help them succeed, I found it very important to reach out to younger students to encourage them and grow their confidence early. Someone believed in me and I made the leap. Volunteering means believing in the work so those students will also, one day, take the leap into science confidently!
Alex: I would say to just give it a try as a Virtual Judge to start. It's not a huge time commitment, doesn't require travel and you can judge the folders at any hour or any day of the week, as long as you can meet the reasonable deadline. If you like it, you can continue or even expand your involvement like I have. If not, you've performed an important service and you're not obligated to any future commitments.
Michelle: Please do it! I think the entire process of putting together an idea, testing it and then presenting it is an invaluable experience for the students, aside from the fact that it is a competition. It's a meaningful experience to be a part of.
Crystal: It is a worthy program to donate your time and effort to because the outcomes for the students are beneficial, life-changing and continue to give beyond the project and competition. It also impacts the educators/team advisors by providing ongoing professional development that feeds back into the classroom for years to come.
And one last thought…
Alex: I think that the eCYBERMISSION program offers a great complement to students' classroom STEM education. The eCYBERMISSION program provides a chance for students to design and perform real experiments to answer questions just as a professional scientist would, or to design, build and improve a device just as a professional engineer would. In this way, the students gain early exposure to the real-world problem-solving side of STEM and learn how to think like scientists and engineers. This contributes tremendously to their STEM literacy and preparation for living in and contributing to our society. I think there are students that might not get excited about STEM based on their classroom experiences but find from their participation in eCYBERMISSION that they really love STEM and can see a future for themselves in it.
Michelle: I feel really honored to serve as a judge every year that I get to do it. Thank you for the opportunity!
---
eCYBERMISSION is a web-based STEM competition for students in grades six through nine. Students are challenged to explore how STEM works in their world while working as a team to solve problems in their community. Teams compete virtually in state and regional competitions and in-person through the National Judging & Educational Event (NJ&EE) in June 2021. Student prizes are awarded at the state, regional, and national levels by grade level.
To learn more about the different volunteer roles and to find out how you can be involved, visit the eCYBERMISSION website.
Find a Volunteering Opportunity
Visit our Program Volunteers page for a tool to find the best opportunity for you.
eCYBERMISSION Grants
The eCYBERMISSION Mini-Grant is intended to support teachers/program leaders as they implement eCYBERMISSION with their teams. Educators (formal and informal) of students in grades 6-9 are encouraged to apply. Special consideration is given to Title 1 schools and to those with underserved/ under-represented populations.