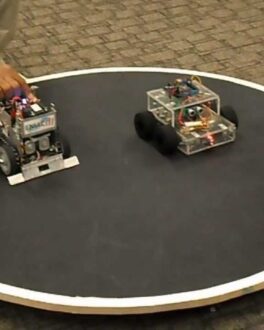 Have you ever wondered how to make and operate a robot? Spend the summer learning how with the AEOP SumoBots program – no prior experience necessary! During AEOP SumoBots, students will learn to design, build and program SumoBots that navigate and battle in a fun competition format with other robot teams. SumoBots are small autonomous robots that use sensors to detect each other. In "battle," they "fight" to push the opponent robot out of a competition ring. 
During this hands-on STEM program, students will work in small groups of three to four under the guidance of Near-Peer Mentors and Resource Teachers. AEOP SumoBots will meet ten times for two-hour sessions in the evening after school where they will learn to master the SumoBots. Participants will even have the opportunity to visit the Army Research Laboratory's Robotics Research Collaboration Campus (R2C2) in Middle River, MD! 
Important information:
Program Dates:

July 21 – Sept 22, 2022

When:

Thursdays, 6:30 – 8:45pm ET

Location:

TBD, Harford County

Registration link: https://cvent.me/BWMVRV
AEOP SumoBots is free of cost and open to 7th – 12th grade students across Cecil, Baltimore and Harford counties in Maryland. Interested students must have successfully completed Algebra I to participate. This program is offered in partnership with the U.S. Army Research Laboratory at Aberdeen Proving Ground, Techbrick Education, Energetics Technology Center and Discovery Center at Water's Edge. Questions? Send an email to Dave Hairston, dhairston@techbrick.org and Virginia To, vto@techbrick.org. Register for AEOP SumoBots, here. 
Find a Volunteering Opportunity
Visit our Program Volunteers page for a tool to find the best opportunity for you.
eCYBERMISSION Grants
The eCYBERMISSION Mini-Grant is intended to support teachers/program leaders as they implement eCYBERMISSION with their teams. Educators (formal and informal) of students in grades 6-9 are encouraged to apply. Special consideration is given to Title 1 schools and to those with underserved/ under-represented populations.