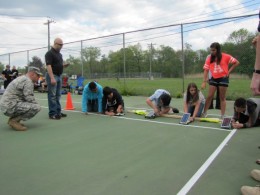 On May 19, more than 50 students and teachers from local middle schools visited Picatinny Arsenal to participate in a Junior Solar Sprint competition, where students race solar electric "hobby-kit" cars to determine who has the fastest car. At left is Col. James Ross, military deputy director for the Enterprise and System Integration Center.
The Junior Solar Sprint competition challenges students to use scientific knowledge, creative thinking, experimentation and teamwork to design, build and race high-performance solar electric vehicles. The program allows students to develop teamwork and problem-solving abilities, investigate environmental issues, and gain hands-on engineering skills through the real-world applications.
Find a Volunteering Opportunity
Visit our Program Volunteers page for a tool to find the best opportunity for you.
eCYBERMISSION Grants
The eCYBERMISSION Mini-Grant is intended to support teachers/program leaders as they implement eCYBERMISSION with their teams. Educators (formal and informal) of students in grades 6-9 are encouraged to apply. Special consideration is given to Title 1 schools and to those with underserved/ under-represented populations.