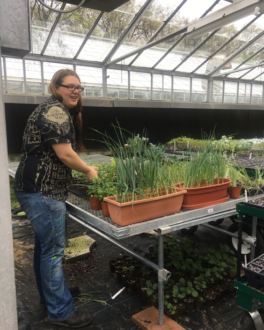 It is never too late to pursue a career in STEM. This past academic year we worked with nearly 200 high school students from Toledo Public and Springfield Local school districts and introduced them to real scientific research and how to conduct research projects under the guidance of teachers, mentors and scientists.For some of our students, this was the first time they had ever done STEM research.
Our program aims to engage students in scientific research and STEM studies, showing them they could have successful careers as STEM professionals. By immersing themselves in research in the company of scientist mentors and peers, students are introduced to STEM fields in compelling and interesting ways.
Working closely with their mentors, students learned how to design and implement their own original scientific research plan and were provided time in a fully-equipped research lab. They presented their work to fellow students, and after hearing constructive feedback from teachers and scientists, they went on to present to university faculty and judges at the Ohio Junior Science and Humanities Symposium.
At this year's Ohio JSHS in March, there were numerous standout students and topics, especially in the fields of agriculture including hydroponics, urban agriculture and the usage of drones in agriculture. There were also several projects on water research and algal blooms, as we're located near Lake Erie which has been severely affected. We are proud of how hard and diligently students worked on their projects and the relationships that were formed with their fellow students and teachers.
We've witnessed first-hand the positive impact this program has had on the lives of the participating students and teachers. One student summarized their Ohio Junior Science and Humanities Symposium experience, saying, "This project is the one thing I've worked on the hardest my entire life and gave my senior year of high school meaning." The students' science teachers also recognize the benefits their students receive by being exposed to many new ideas through STEM competitions. Not only do they get to see all the great research other students are working on, broadening their knowledge of the field, but the competition also validates all their hard work and the time they put into their own research. Students gain exposure to other fields of science that they were previously unaware through STEM competitions. They also recognize how much room they have to grow and leave motivated to compete the following year.
NWO at BGSU works in partnerships with AEOP to increase the number of underrepresented students participating in Junior Science and Humanities Symposium (JSHS). Through an AEOP grant, NWO recruited and trained students from underserved populations and their teachers from local school districts to engage students in original scientific research and STEM studies.
By Susan Stearns, assistant director for programming and development of the Northwest Ohio Center for Excellence in STEM Education at Bowling Green State University in Bowling Green, Ohio
Find a Volunteering Opportunity
Visit our Program Volunteers page for a tool to find the best opportunity for you.
eCYBERMISSION Grants
The eCYBERMISSION Mini-Grant is intended to support teachers/program leaders as they implement eCYBERMISSION with their teams. Educators (formal and informal) of students in grades 6-9 are encouraged to apply. Special consideration is given to Title 1 schools and to those with underserved/ under-represented populations.