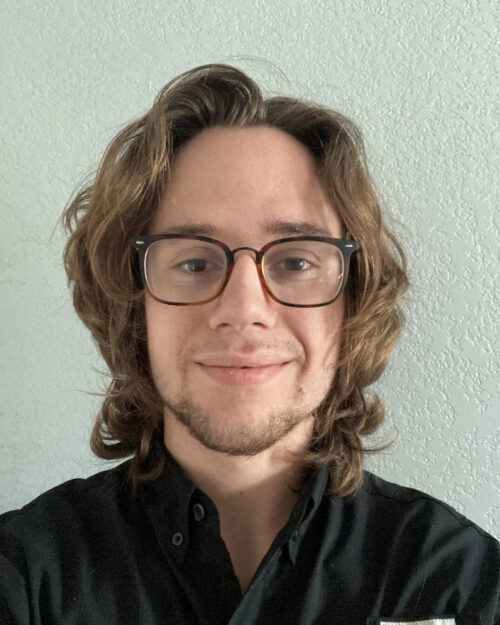 Gabriel Acuff loved AEOP's Gains in the Education of Mathematics and Science (GEMS) program so much, he participated in it three times! In GEMS, he was more than a student, he was a "lab technician in training," able to ask questions and experiment. After his time in GEMS, Gabriel decided he wanted to remain involved with AEOP, so he joined the 2022 AEOP Membership Council. The AEOP Membership Council aims to inspire AEOP Alumni through honors, educational and networking opportunities. 
For Gabriel, his favorite part of being on the Council was hearing his peers' AEOP stories. He also appreciated learning about their different leadership styles and how to communicate more effectively while working on their respective projects, which would likely not be found in a less diverse group. 
Gabriel is planning to continue serving on the Council and looks forward to streamlining the 2023 AEOP Alumni Awards process and supporting outreach efforts. The long-term goals the group achieves each year brings a great sense of accomplishment, Gabriel said, and he hopes to be more involved with those projects in the coming year while helping his peers develop leadership skills. 
"Through this year's AEOP Membership Council, I am more self-assured in managing my team at work, leading groups in college, and setting achievable goals and expectations in long-term projects," Gabriel said. "I am able to more confidently and feasibly plan for a great future."
We are happy to announce that Gabriel was awarded a $1,000 scholarship this past December for his work with the Membership Council in 2022, contributing to his studies in Biology at the University of Texas at San Antonio. 
Get excited for the incoming 2023 AEOP Membership Council! If you are interested in growing your leadership skills and staying connected to your AEOP peers post-program, get involved and share your Alumni story, attend alumni meet-ups in your area (find those on our social media & monthly e-alerts) and subscribe to our YouTube channel! 
Find a Volunteering Opportunity
Visit our Program Volunteers page for a tool to find the best opportunity for you.
eCYBERMISSION Grants
The eCYBERMISSION Mini-Grant is intended to support teachers/program leaders as they implement eCYBERMISSION with their teams. Educators (formal and informal) of students in grades 6-9 are encouraged to apply. Special consideration is given to Title 1 schools and to those with underserved/ under-represented populations.