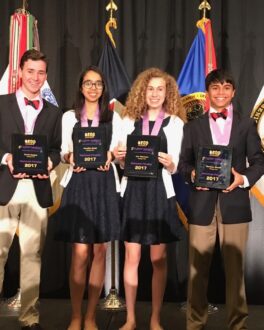 In 2017, the members of Team Charger Fire presented their project at the eCYBERMISSION National Judging & Educational Event. The team had worked tirelessly to develop and refine a wildfire detection and notification system. Fast forward to 2021, that same team of students is still building on their eCYBERMISSION idea and continuing to innovation.  
Team Charger Fire hails from Charlotte, North Carolina consisting of members Zoe Sherman, Shreyas Bhasin, Kevin Kaspar and Nandita Balaji. The eCYBERMISSION team originally came together as seventh graders in 2015 when they submitted a different project that also earned them a trip to NJ&EE. However, the real magic happened in 2016 after they were inspired by events in their own community. This time, the team came together as ninth graders with the mission to develop a wildfire detection and notification system after witnessing the harmful effects of the fires near their hometown. The four original team members are currently all studying at colleges across the country, including 
Northwestern University, Lehigh University, Johns Hopkins University and Wake Forest University. Since their days at eCYBERMISSION, the four have worked diligently to turn their high school project into a successful startup company, known as InfernoGuard. InfernoGuard provides landowners in remote, fire-prone locations with prompt notifications of wildfire risk to minimize damage while protecting valuable land and ecosystems. The group has iterated through countless prototypes and recently conducted environmental testing at Yosemite National Park.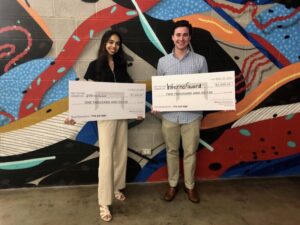 "My team wouldn't be where we are without eCYBERMISSION," said Nandita Balaji on behalf of the InfernoGuard team. The competition not only provided us with crucial technical skills that we use constantly in our work today, but also taught us the importance of teamwork and instilled a passion for innovation into our team from the start. The opportunity to participate in eCYBERMISSION was invaluable and we're so grateful to our experience which created an incredible foundation for all of our progress." 
This summer, the team participated in the Jumpstart Pre-Accelerator program at Northwestern University's entrepreneurship hub, The Garage. They pitched InfernoGuard during Demo Day, a livestreamed event, at the end of August for a chance to win additional startup funding. You can watch their presentation here. During Demo Day, InfernoGuard took home $1,000 for the Audience Favorite Award. They also placed 3rd out of 10 undergraduate and MBA teams competing, earning them a total of $3,000 in prize money.
Registration for the 2022 eCYBERMISSION competition is now open. Learn more about how you can get involved as a student, Team Advisor, CyberGuide, Virtual Judge or Ambassador. Register today!
Find a Volunteering Opportunity
Visit our Program Volunteers page for a tool to find the best opportunity for you.
eCYBERMISSION Grants
The eCYBERMISSION Mini-Grant is intended to support teachers/program leaders as they implement eCYBERMISSION with their teams. Educators (formal and informal) of students in grades 6-9 are encouraged to apply. Special consideration is given to Title 1 schools and to those with underserved/ under-represented populations.