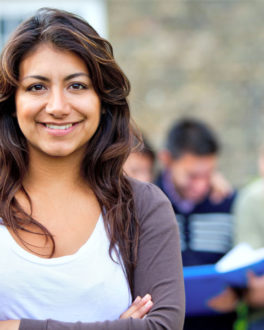 By Marcia Robin-Stoute
It is critical to engage students from underserved and underrepresented communities in quality science, technology, engineering and math (STEM) learning and career exploration. Many career possibilities that some of us take for granted are not necessarily presented as options for minority students. They have no idea that they, too, can strive for and achieve success in advanced STEM fields. As a host site for Unite, a pre-collegiate summer STEM program sponsored by the U.S. Army Educational Outreach Program (AEOP), we at Texas Southern University (TSU) seek to sow this seed and open doors for students to worlds they never knew existed.
Unite helps underserved high school students gain a better understanding of real-world college and career applications in STEM through hands-on activities across multiple STEM fields. As an instructor in the department of engineering, I've had the pleasure of working with TSU faculty and the students we mentor through the Unite program. Year after year, I'm amazed at how deeply this partnership benefits both the students who attend as well as our TSU community.
The outstanding benefits for students are clear. Students, most of whom are from traditionally underserved and underrepresented communities, experience STEM careers in action, firsthand. At TSU, this exposure has included student fieldtrips to the NASA Johnson Space Center and the Houston Ship Channel, to name a few. We utilize the faculty of all academic programs so students can meet STEM professionals from diverse backgrounds and explore a multitude of research projects, any of which might spark their interest in a future career path. Students work in TSU labs on everything from flight simulators to 3-D printer design to soil testing to engineering software. These experiences empower students with confidence as they realize they already possess the knowledge and skills it takes to be successful in a STEM career.
Another part of what makes this program unique is how it challenges students to think beyond the expected, and how it helps students build resilience in the face of failure – a staple of engineering design at its best. I remember a recent summer during which students and faculty conducted a lab experience to make what we called "squishy circuits." Our TSU faculty showed up with flour, salt, oil and water with food coloring. All the students were convinced that we were going to make bread; they didn't believe us when we said those very ingredients could fuel a light bulb! Students tried it on their own first, kneading the dough and connecting the wires, but they became frustrated when the bulbs did not light up. They were ready to call it quits. However, once the faculty explained how negative and positive forces work in conductivity, students followed instructions to separate the dough into two piles so the wires would not touch. They were baffled and so excited when the bulb finally lit up. I'm certain it's an experience they'll never forget.
We at TSU's engineering department also understand that a student's college attendance and career choices cannot happen in a vacuum; for underrepresented students and families, in particular, the financial burden of college can be a daunting thought. That is why we have incorporated our financial department staff into our program to provide students resources for financial success. In fact, a recent program highlight was a trip to Junior Achievement, where students could hear from experts about financial risks and planning for the future.
However, perhaps the most surprising benefit of Unite is the impact it has on the TSU community. Many TSU faculty truly enjoy the opportunity to work with younger students for a change. Many have maintained relationships with former Unite students, writing letters of recommendation for college admissions and keeping in touch as students advance in their academic journey. Our faculty also understand they are helping develop a stronger, better qualified cohort of future college students, regardless of whether those students end up on the TSU campus or elsewhere.
As a Unite host site, TSU benefits first from being the catalyst of change and hope for talented, curious students who deserve every opportunity to pursue the career path of their choosing, even if they've previously only seen those careers on television. Second, we have become a pillar of our community in large part due to our participation in programs like Unite that prepare the next generation of college students for greater success.
We look forward to another fantastic year with the Unite program and encourage every college and university nationwide to get involved. Requests for Proposals are now open for the 2018-19 Unite program. Join us in inspiring tomorrow's STEM leaders.
Find a Volunteering Opportunity
Visit our Program Volunteers page for a tool to find the best opportunity for you.
eCYBERMISSION Grants
The eCYBERMISSION Mini-Grant is intended to support teachers/program leaders as they implement eCYBERMISSION with their teams. Educators (formal and informal) of students in grades 6-9 are encouraged to apply. Special consideration is given to Title 1 schools and to those with underserved/ under-represented populations.