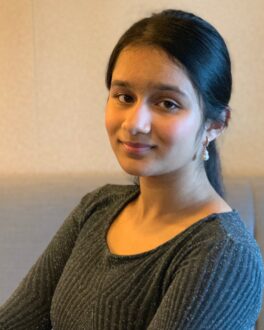 Sohini Banerjee, a senior at Thomas Jefferson High School for Science and Technology in Alexandria, VA, started her AEOP High School Apprenticeship in 2020 at the University of Memphis. Sohini worked closely with researchers Dr. Bernie J. Daigle Jr. and Mazen Istanbouli on a computer science project related to Post-Traumatic Stress Disorder (PTSD).
"I had interest in computational biology, which was why I was excited about the lab at the University of Memphis," said Sohini. "I had a lot of flexibility in the algorithms I wanted to use and exactly what I wanted to do with the project."
The goal of the project was to identify biomarkers to predict PTSD. Sohini said this is a potential way to help streamline the diagnosis process and eliminate the stigma tied to PTSD. 
"There is a lot of stigma around PTSD and other mental health conditions, and people may be left out of the diagnosis process because of other's bias or their own," said Sohini. "This project looked to find an accurate and unbiased metric to assess if a patient has PTSD, which will hopefully allow them to get the resources and treatment they need."
Sohini was eager to carry on her work with the University of Memphis at the end of summer 2020, so she extended her research through the school year. Researchers Dr. Daigle and Mr. Instanbouli continued to mentor her as she worked on the project. 
"From giving general advice to assisting me with the research project, Dr. Daigle and Mr. Instanbouli were incredibly helpful," said Sohini. "Working alongside them gave me a look at what a true research experience is like, which not all high school students get to experience."
Sohini was recently recognized as a Regeneron Science Talent Search Top 300 Scholar for the work she began as an AEOP Apprentice, titled Post-Traumatic Stress Disorder (PTSD) Biomarker Identification Using Integrative Network Fusion and Deep Learning With Bayesian Hyperparameter Optimization. The Regeneron Science Talent Search is the nation's oldest and most prestigious science and math competition for high school seniors. Sohini spent months preparing her application and paper submission to Regeneron and encouraged other interested students to start their applications early. 
Sohini's advice for other STEM students considering an AEOP Apprenticeship is to find a program that excites you and can help you in the future.  
"Really focus on what your interests are and find an AEOP Apprenticeship that aligns with those interests," said Sohini. "Spend time reflecting on what you want to learn and why you want to learn that, which will make the apprenticeship experience more interesting and valuable."
Sohini plans to explore research, innovation and entrepreneurship as she looks to higher education. To learn more about AEOP's Apprenticeship and Fellowship opportunities, click here.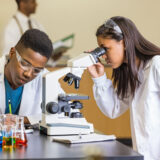 High School Apprenticeships
High School students work one-on-one with a university researcher or DoD scientist mentor during this authentic science and engineering research apprenticeship.
More About High School Apprenticeships
Find a Volunteering Opportunity
Visit our Program Volunteers page for a tool to find the best opportunity for you.
eCYBERMISSION Grants
The eCYBERMISSION Mini-Grant is intended to support teachers/program leaders as they implement eCYBERMISSION with their teams. Educators (formal and informal) of students in grades 6-9 are encouraged to apply. Special consideration is given to Title 1 schools and to those with underserved/ under-represented populations.