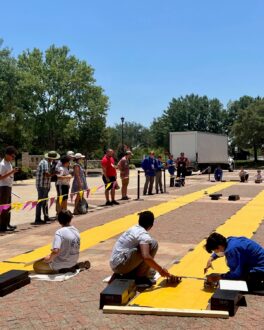 In the last week of June, Junior Solar Sprint (JSS) participants brought their solar cars to race at the 2022 National Technology Student Association (TSA) Conference in Dallas, Texas. Throughout the year, teams of fifth through eighth grade students worked together to design and build a solar car for a chance to race at the national competition. Teams across the country raced their cars at regional competitions, fine tuning their car design and build. A select number of teams were then invited to Dallas to race their cars at the National TSA conference.
During the National JSS competition, teams are not only judged on the speed of their car, but on the design and strategy behind the car's build. Teams spend the competition season perfecting their solar cars, learning to balance the design elements that increase speed, durability and stability while also adding stylistic flare! Race day in Dallas was full of excitement and tough competition as teams put their solar cars to the ultimate test. Two AEOP teams ranked in the top 10 with one team earning third place!
The top ten teams were: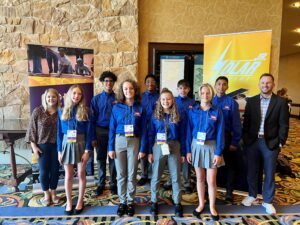 Long Drain School from West Virginia

Ft. Campbell (AEOP) from Kentucky 

Milwee Middle School from Florida

DeWitt Middle School from New York

Tucker Creek Middle School from North Carolina

Kennedy Middle School

from North Carolina

Challenge School from Colorado

Cocoa (AEOP) from Florida

Fort Campbell team (AEOP) with 3rd place trophy

Kirkland Middle School from Washington

Purcell Junior High from Oklahoma
Congratulations to all the teams that participated. We will see you next year!
Learn more about Junior Solar Sprint and how you can get involved here. For additional details on the 2022 National TSA Conference, visit the TSA website.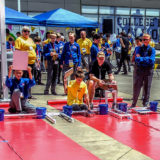 Junior Solar Sprint (JSS)
Junior Solar Sprint (JSS) is a competition for middle school students to create the fastest, most interesting and best crafted solar-vehicle possible.
More About Junior Solar Sprint (JSS)
Find a Volunteering Opportunity
Visit our Program Volunteers page for a tool to find the best opportunity for you.
eCYBERMISSION Grants
The eCYBERMISSION Mini-Grant is intended to support teachers/program leaders as they implement eCYBERMISSION with their teams. Educators (formal and informal) of students in grades 6-9 are encouraged to apply. Special consideration is given to Title 1 schools and to those with underserved/ under-represented populations.