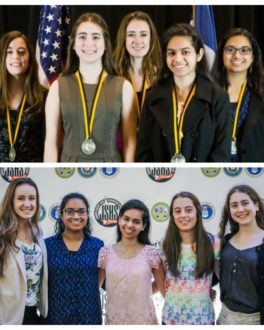 At this year's Junior Science and Humanities Symposium (JSHS), students from across the country gathered to compete for scholarships and recognition in the fields of environmental science; life sciences; biomedical, cellular and molecular sciences; medicinal, behavioral and health sciences; engineering; mathematics and computer science; physics; and chemistry and material sciences.
While attending this symposium, students toured various labs, and participated in roundtable discussions designed to introduce them to various STEM opportunities and pathways available to students both before and after graduation.
Brian Douglas and Lori Ihrig, of The University of Iowa's Belin-Blank Center for Gifted Education and Talent Development accompanied the five finalists from Iowa who competed in this year's National JSHS. To read about their students' experiences, check out the Center's blog, here!
Find a Volunteering Opportunity
Visit our Program Volunteers page for a tool to find the best opportunity for you.
eCYBERMISSION Grants
The eCYBERMISSION Mini-Grant is intended to support teachers/program leaders as they implement eCYBERMISSION with their teams. Educators (formal and informal) of students in grades 6-9 are encouraged to apply. Special consideration is given to Title 1 schools and to those with underserved/ under-represented populations.